This Summer, the Easton Summer Cinema series ran every Tuesday from May 29-July 31 at the Landis Cinema, Buck Hall, Lafayette College and screened a total of 10 films. The series was co-sponsored by the Village on College Hill and Lafayette's Film and Media Studies, and funded in part by both the LVEHC and the President's Office at Lafayette College.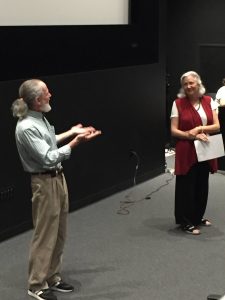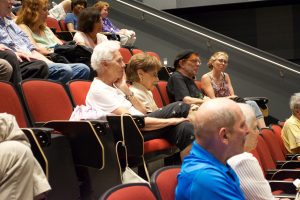 Organizers Peter Coyne and Carol Inman introduce a film (L).

Audience members listen intently during a post-film discussion (R).
Weekly post-film discussions focused on issues of regional and national significance, and addressed the LVEHC themes of: Diversity in Communities; Landscapes at Risk; the Process of Storytelling; and the Changing Nature of Work. The film series drew attendees from all parts of the Easton area, including loyal audiences from nearby Phillipsburg and the Easton Senior Center. An average of 80 community members attended each screening and contributed to the post-film discussions. The films and the focus of their talk-back are listed below.
Whale Rider

Diversity in Communities:
Women confronting established norms.
Trouble the Water

Landscapes at Risk:

Easton Flooding and Climate Change
Grapes of Wrath

Landscapes at Risk:

Disenfranchisement of the common people: then and now.
Local destruction of farmland being replaced by low-paying warehouse jobs.
Atlantic City

Landscapes at Risk/ The Changing Nature of Work:

Bethlehem/AC Casinos and the impact of tourist development on communities;
On the Beach

Landscapes at Risk:

3 Mile Island accident and Nuclear Proliferation
The Visitor/Not Like

Diversity in Communities:

Trump Anti-Immigration Policies.
Andrea Bonilla, Lafayette student co-presented the evening with Peter Coyne and discussed her film about DACA students in the Lehigh Valley.
Breaking Away:

Diversity in Communities/Storytelling:
To Kill A Mocking Bird:

Diversity in Communities:
His Girl Friday

The Changing Nature of Work:

Pioneering Women in the workplace/ life-work balance.
2 Local journalists were in attendance for post-film discussion.
The series was an overwhelming success and fostered productive discussions amongst the community about issues of local and national significance.