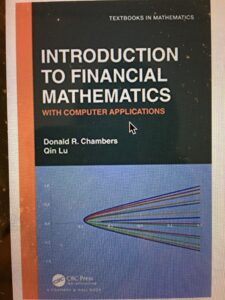 This textbook is used to teach one-semester undergraduate financial mathematics. The new features in this book are hands-on activities. Through binomial trees in EXCEL, simulations in R, and optimal portfolios management in Mathematica, students understand the fundamentals in financial derivatives pricing, hedging risk, and portfolio management.
Financial professionals can use my videos to self-taught the knowledge from the book. Videos and course slides are in the useful links which I share on my google drive. For lecturers, you are welcome to contact me for a solution manual, quizzes, and tests.
For students and lecturers, we appreciate your reporting of typos in the book.My email: luq@lafayette.edu.