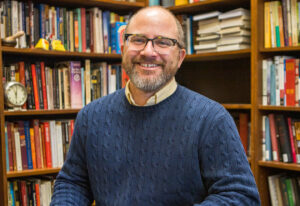 I am an associate professor of religious studies at Lafayette College in Easton, Pennsylvania, where I study and teach on religion in the Americas, Mexican American religion, healing, and cross-cultural religious change. I am especially interested in Latino/a popular religious devotions, the history of religion in the U.S. Southwest, religion and healing, and religion in public life.
I have lived in a variety of places including Arkansas (where I grew up), New York City, Colorado, New Mexico, Arizona, Kentucky, Illinois, and Buenos Aires, Argentina.
My wife, the Rev. Dr. Alex Hendrickson, and I have three lovely children and live in Easton, PA.
Follow me on Twitter @bbhendrickson.