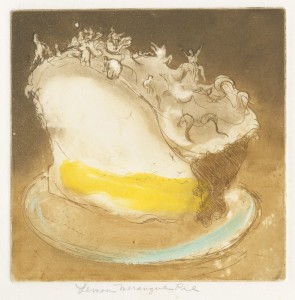 The master print collection of New Jersey artist Helen Frank was acquired by Lafayette College in ten installments from 2011 through 2014.  Donated by the artist and her husband, Sid Frank, Lafayette College class of 1949, the collection of over one thousand prints represents seven decades of work and a remarkable array of printmaking techniques.  As Frank's passion for printmaking evolved, she focused on etching processes as her preferred medium and developed a very personal approach to her artwork.  Each print reflects her life experiences, interests, and surroundings and the majority of her master etchings have been produced on a printing press in the basement studio of her Springfield, New Jersey, home.  The collection celebrates the joy and whimsy of everyday life and showcases the artist's breadth of interests, from the Saratoga Springs summer ballet and horse racing seasons to the iconic architecture of New York City and New Jersey.
The 1035 prints (3 linear feet — 12 boxes and one oversize flat file drawer) are arranged chronologically and represent the richness and scope of Frank's career in printmaking.  The collection contains her earliest lithographs produced at the Tyler School of Fine Arts at Temple University in 1949 as well as examples of the hundreds of etchings and monotypes she produced in her home studio throughout her career.
Common themes in Frank's work include the following:

Arts Appreciation
As a firmly established patron of the arts, Helen Frank developed a passion for the New York City Ballet and the Metropolitan Museum of Art.  These reoccurring topics in her printmaking capture the experience of being in the presence of great art, both as a museum visitor and an audience member.
Cultural Identity & Immigration
Helen Frank's Jewish heritage and her family's immigration to the United States are examined in her artwork.   Inspired by a trip to a deserted Ellis Island in the 1960s, Frank created a series of artworks to explore the immigrants' experience of "arrival."

Daily Life
Everyday objects figure prominently in Helen Frank's master print collection.  From slices of pie in automat windows to the formidable form of a basement furnace, Frank documents the variety of everyday life.
New Jersey Impressions



Helen Frank is a life-long resident of New Jersey.  Her prints celebrate iconic architecture and scenes from her home state.  Entryways to the Lincoln Tunnel and Hoboken ferry slips and views of the Pulaski Skyway demonstrate the artist's appreciation for historic structures, while scenes of a body-building contest and the now-defunct Olympic Amusement Park in Irvington offer more humorous observations on the Garden State.

New York City
Impressions
Through her scenes of New York City streets, buildings, and cultural attractions, Helen Frank showcases the beauty and variety of the city.  Her prints highlight both the majestic and the intimate, including spectacular skylines, soaring skyscrapers, and the doorways of Greenwich Village.

Sports Interests
Annual summer trips to Saratoga Springs, NY, inspired a series of prints featuring the many facets of the horse racing season.  Images of baseball players throughout her collection also reveal her fondness for America's favorite pastime.
Travel
Helen Frank's travels  throughout the U.S. and abroad are documented in many of her prints.  From a rock wall on her beloved Block Island to the whirling dervishes of Turkey, Frank captures the essence of a place.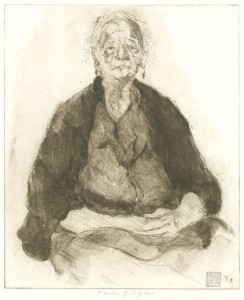 Women's Issues
The variety of roles women play in life factor significantly in Helen Frank's artistic expression.  The complexities of marriage, motherhood, body image, aging, and female companionship are treated with both reverence and wit in many of her prints.
Educational Use
Users may freely reproduce (print or download) images available on this site, provided the intended purpose is for use in teaching, research, or private study, and provided that proper attribution to the Lafayette College Libraries is made – for other uses, see Digital Collections: Reproductions, Use, and Copyright Guidelines