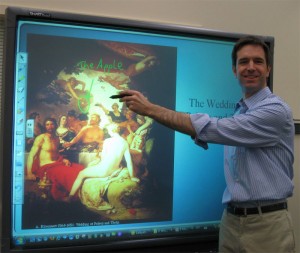 D. Phil. Ernst-Moritz-Arndt Universität Greifswald (2000); Habil. Ludwig-Maximilians-Universität München (2007).
I teach courses in Latin and Greek at various levels as well as courses in Classical Civilization, such as "Classical Mythology" or "From Aeschylus to Woody Allen: Greek Tragedy and Beyond."  In addition, I coordinate the Classical Civilization minor and advise students pursuing self-designed majors either in Classics or in Classical Civilization.
A big part of my scholarship focuses on Greek tragedy, especially Euripides.  My first book, Die Agonszenen bei Euripides (Stuttgart/Weimar: Metzler 2001), studied the structure and function of debate scenes in Euripidean drama.  In addition, I am interested in ancient auxiliary texts (e.g., epitomes, anthologies, commentaries, or lexica) and in the history of classical scholarship.  I am currently revising my book manuscript Antike Auxiliartexte: Praxis und Theorie einer Textfunktion im antiken literarischen Feld, which explores the theory and practices related to the use of auxiliary texts in antiquity.  My articles have appeared in journals and edited volumes.
Naturally, at Lafayette's ISA soccer world cup, I play for Team Europe, back-to-back world champions in 2010 and 2011.