Which road systems were built along Native American trail ways, and why?  This research question, formulated by Molly Leech '17 for her senior thesis in Anthropology and Sociology under the supervision of Professor Andrea Smith, represents the sort of historic geographic scholarly inquiry that John Clark, Data Visualization GIS Librarian, loves to support in his role at Skillman Library Digital Scholarship Services (DSS).  John offers a "Making Maps" workshop series at the Skillman Library that introduces students, faculty, and librarians to such tools as Google Maps, Social Explorer, and ArcGIS, a popular desktop GIS (Geographic Information Systems) application available to the Lafayette community at Skillman.  He also supports faculty and student research projects such as Molly's.  While attending John's "Making Maps" workshops to learn about digital tools she might use to explore her thesis topic geographically, Molly had the opportunity to share her research question with John, and she now works closely with him on a substantive GIS component for her thesis.
According to John, "maps and geographic understanding are relevant to nearly every major at the college–from Environmental Science to History to Civil Engineering and all points in between. Furthermore, mapping software has become simpler to use so that students can create their own geospatial data from spreadsheets or by extracting information from historic maps. This data can then used to make their own custom maps. I can assist students, whether it's finding the right map online for a class assignment or assisting them with mapping software so that they can create maps from their own research."
Molly explains that a geographic lens has been central to the development of her research. "My thesis retraces the history of two former Indian trails that intersect at the historic 'Four Corners' of Shrewsbury, New Jersey. By contextualizing maps from the late seventeenth century to present day with archival source material such as town histories and newspaper articles, I hope to reveal how these Indian trails transitioned to early colonial and present-day roads. This research allows me to explore the processes involved in the creation of a settler sense of belonging as well as the politics of street-naming and place-making."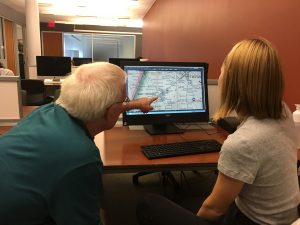 Molly emphasizes that the GIS component of her thesis is crucial to understanding her topic. "It's not an easy job to try to locate these former Indian trails on the landscape–archival sources often use long-gone farms and homesteads as geographic points of reference.  Luckily, with the help of John Clark, I've been able to use archival maps from the same time period as my sources to retrace the Indian trails and then overlay present-day road maps onto this data. When I began my thesis research, I didn't expect to be using GIS, but now, these compiled maps will be presented as part of my thesis to help re-conceptualize our surroundings and challenge the dominant narrative of Northeastern American colonial history."
For Molly, her GIS exploration is thus central to her critical examination of settler colonial narratives in American history.  "There's something to be said about the fact that we don't tend to talk about the fact that many of the roads we drive on are former Indian trails. When we think of pre-colonial America, the dominant narrative is that settlers encountered an untamed wilderness; the idea of the intrepid pioneer is glorified. However, it makes complete sense that a settler nation would make use of the indigenous populations' trails, and indeed start to settle along them. When we are conscious that we are driving on former Indian trails, we are reminded of our colonial history and we become more conscious of the longtime presence of Native Americans on the land."
Are you interested in incorporating a mapping component in your research or teaching?  Contact John Clark at clarkjh@lafayette.edu.