Education:
Ph. D. in historical musicology, Princeton University, 1980
M.F.A. in historical musicology, Princeton University, 1975
B.A. cum laude, with honors in history and honors in music, Williams College, 1973; Φβκ
Biography:
Anthony M. Cummings (Eugene H. Clapp II '36 and Maud Millicent Clapp Professor of Music and Coordinator of the Program in Italian Studies) earned the B.A. degree cum laude, with honors in history and honors in music, from Williams College, and the M.F.A. and Ph.D. degrees in historical musicology from Princeton University.  He also completed training at the Graduate School of Education at Harvard University and the Centro Linguistico Italiano "Dante Alighieri" in Florence.  Professor Cummings is a specialist in European music of the early-modern period and in early jazz.  He teaches a course on European classical instrumental music for non-majors, and, for — both majors and non-majors — a survey of European music from ca. 1600-ca. 1915 and specialized courses on the history of European and African-American music.  He also teaches regularly in Lafayette's Common Course of Study.  He has authored or co-edited ten books on Renaissance music, digital technologies and the research library, the practice of musicology as an academic discipline, and early New Orleans jazz.  He is also the author of many articles in scholarly journals and papers delivered at international conferences.
Prior to coming to Lafayette in 2006, Dr. Cummings was Lecturer in Music at Princeton University (1986-88); a resident of Florence, Italy, for several years as a fellowship recipient; and Associate Professor of Music (1992-2005) and Professor of Music (2005-2006) at Tulane University in New Orleans.
curriculum vitae: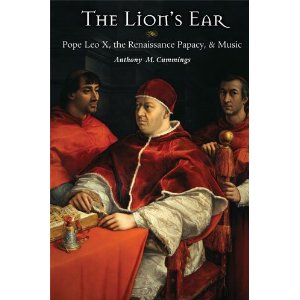 Among Professor Cummings's most recent books are The Lion's Ear:  Pope Leo X, The Renaissance Papacy, and Music (Ann Arbor, Mich.:  The University of Michigan Press, 2012 and 2022 [paperback edition]); Nino Pirrotta:  An Intellectual Biography, Transactions of the American Philosophical Society CIII/1 (Philadelphia:  The American Philosophical Society, 2013); and Music in Golden-Age Florence, 1250-1750.  From the Priorate of the Guilds to the End of the Medici Grand Duchy (Chicago, Ill.:  The University of Chicago Press, 2023).
(Nino Pirrotta:  An Intellectual Biography won the John Frederick Lewis Award from the American Philosophical Society, given for the best book published by the Society in the calendar year.  Videoclip of the award ceremony:  http://diglib.amphilsoc.org/islandora/object/video:1237, at approximately 4'50".)