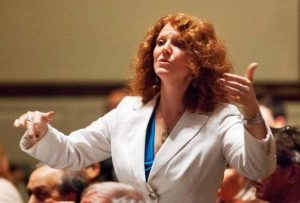 Dr. Jennifer Kelly is Director of the Arts/Associate Professor of Music/Director of Choral Activities at Lafayette College, and Artistic Director of the Concord Chamber Singers of the greater Lehigh Valley. Many ensembles have been under her baton including the Philharmonic Orchestra at the Kadima Conservatory, Los Angeles United Musicians Symphony Orchestra, UCLA Concert Choir, and several ensembles at the colleges of Los Angeles Valley and Lafayette. Dr. Kelly is also an active guest conductor, clinician, and adjudicator, musical director for theatre, and professional vocalist. Selections of her conducted performance of Amy Beach's Gaelic Symphony are featured on an interactive DVD authored by Dr. Robert Winter. Obtaining her doctoral degree from University of California, Los Angeles, and learning from her mentor Donald Neuen, her ensembles are known for their energy, dynamic versatility, innovative programming, and impactful storytelling. In addition to her work with Don Neuen, she has studied with Simon Carrington, and participated in an intensive study of Dalcroze Eurythmics at the Marta Sanchez Training Center, Carnegie Mellon University.
An advocate for interdisciplinary collaboration in the arts, alternative venues, and new commissions, Dr. Kelly recently premiered a major work by Gabriela Lena Frank as part of a year-long residency to explore creative process across disciplines, and Hasu Patel's sitar concerto for sitar, tabla, chorus, and orchestra. She is currently developing new projects with a generous grant from The Hearst Foundations to continue commissioning composers from her book "In Her Own Words: Conversations with Composers in the United States" (UIP 2013). Dr. Kelly's publications also include articles and reviews for Choral Journal, International Alliance for Women in Music, Kapralova Society, and encyclopedic entries for The New Grove Dictionary of American Music, and the Encyclopedia of American Women's History. She has offered pre-concert lectures for the Allentown Symphony Orchestra, and widely presented her research in the U.S., Europe, and China. At Lafayette College, Jennifer conducts the vocal ensembles and teaches Music and Gender, Practical Conducting, and co-teaches Neuroscience of Music.
As a musical director, Dr. Kelly has worked on such shows as Chicago, Urinetown, Little Women, Pippin, Steel Pier, and others. As a professional singer, she has studied with Karen Morrow, Kari Windigstadt-White, Dorothy Warenskjold, and Eric van Hoven. She was invited to join the London Philharmonia Chorus and BBC Concert Orchestra in the performance of contemporary work St. John Passion by James MacMillan, sang the mezzo roles in Gilbert & Sullivan: Revue, and is a cabaret vocalist. Dr. Kelly has served on the Board of the International Alliance for Women in Music and the state committees of the Music Association of California Community Colleges and the American Choral Directors Association, California chapter.
Conductor Darin Lewis has toured throughout Europe and conducted in many of the major cities including: London, Paris, Rome, Florence, Venice, Berlin, Budapest, and Vienna. In 2005, he was asked to be conductor in residence at the First International Orchestra Festival in Hallé, Germany, where a combined German/American orchestra premiered two of his works. He has toured throughout the United States and has performed at Alice Tully Hall, Lincoln Center, as well as in many other important venues in the New York City area. He has given master classes along the East Coast and in California, and works with Heritage Music Festivals. He was on the faculty at Horace Mann School for 19 years and developed a nationally recognized program. He is the Founder and Artistic Director of the Simpatico Chamber Ensemble in New York City.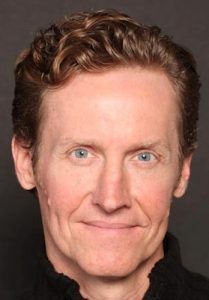 Eric van Hoven
A Mississippi native, Eric van Hoven debuted at three of NYC's prestigious music venues within twelve consecutive months. His New York City Opera debut was Mozart's Die Zauberflöte, followed by his concert debut at Avery Fisher Hall with American Symphony Orchestra singing the roles of Hermes in Bruch's Odysseus, 3rd Soldier in Hindemith's Murderer Hope of Women, and 2nd Player in Weill's The Protagonist, and then his Broadway debut in Candide directed by Hal Prince. Mr. van Hoven has performed principal roles with Opera De Las Americas, Portland Opera, Opera Omaha, Chautauqua Opera, South Carolina Opera, Hawaii Opera Theatre, Knoxville Opera, Sacramento Opera, and Augusta Opera. Recent engagements include performances with the Atlanta Symphony, Sioux City Symphony, Mobile Opera Orchestra, and Lake George Opera.