"Foundations for Flourishing: Early Decision-Making for Successful Careers"
Lafayette ChBE Spring Symposium 2017
The Lafayette College Department of Chemical and Biomolecular Engineering (ChBE) and The American Institute of Chemical Engineers (AIChE) are very proud to announce the fourth annual Lafayette ChBE Symposium! The ChBE Symposium is a one-day event that will be held on March 24th in the Kirby Hall of Civil Rights.
Whether our alumni have decided to pursue further education, search for a new position, or take on a big project, they have been required to make choices that allowed them to drive their career. With this year's symposium, we want to emphasize the importance of identifying, developing, and working towards career aspirations as early as possible. We are interested in bringing back passionate alumni who, when presented with these difficult career choices, have enthusiastically made the decisions that directed them to being the successes that they are today.
ChBE Symposium Mission Statement:
1) To expose underclassmen students to the chemical engineering professional community of which they will become a part after graduation.
2) To provide a platform to enhance the communication, connectivity, and participation among the Lafayette Chemical Engineering Department: faculty, students, and alumni.
ChBE Alumni:
We are excited and proud to connect our strong and vast alumni network with our current students. Please click the blue "Alumni Information" link below for more information on the ChBE Symposium. Alumni Information
Symposium Schedule: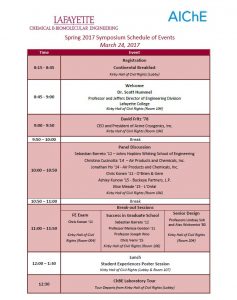 For any questions or concerns, please email aiche@lafayette.edu