Here you will find our daily blog while on tour in Ireland March 23-31, 2013:
Saturday, March 23 – Departing For Ireland
We are all sitting in the airport now waiting to depart! Today we all met at Rachel's house around noon, grabbed lunch, and headed out to Leslie's house to get the van. The van came around 5:15 and we were off to JFK! It was a quick, smooth car ride to JFK. We were all anxiously awaiting our plane ride, well by that I mean the destination! Once we got to JFK checking in took a while, but we didn't run into any big problems. We made it through security and met up with some of the alumni at our gate, which was switched last minute, but we handled it without any difficulties. We all grabbed some food and are hanging out at our gate until 8:30 approaches for us to board. We are all sooo excited to finally get to experience rugby in Ireland!  Hopefully the next forty-five minutes flies by! Our team will keep you updated throughout the week with our fun experiences!
Sunday, March 24 – Longest Day Ever
We arrived in Ireland at about 8:30 in the morning and made it successfully through customs to our tour guide, Steven, and bus driver, Patrick.  After a quick drive through the city center to the hostel in Dublin, we dropped our things in our rooms and headed to an Irish breakfast at O'Shea's consisting of eggs, beans, pork and sausage. Good thing we don't have any vegetarians on the trip!  After breakfast we bundled up in our warm clothes and headed to the driest rugby pitch in the area for a training session with Coach Dowling, of the Trinity College Men's team and the US Eagle's Men's team.  After the training session, we warmed back up and went on a tour of the Aviva Stadium, the most well-known rugby stadium in Ireland.  Eager to get to bed, we (eventually) found a pub for dinner and are all going to bed soon!  So excited for the Gaelic Games tomorrow!
Monday, March 25 – Gaelic Games and More Rugby
We had the chance to visit the Dublin GAA (Gaelic Athletic Association) in the morning, where we played the national sports of Ireland: Gaelic football and women's hurling, called camogie. All Irish children grow up playing these sports, and unlike in American sports it is unheard of to change teams – you play for your home county with pride. Gaelic football was our team's favorite of the two. It is played with a slightly-heavier soccer-like ball on a large, grass field.  There are fifteen players on each team, and you move the ball up the field by a combination of running, kicking the ball to yourself, dribbling the ball on the field, and passing the ball. There are two ways to score, by either kicking the ball through the uprights at your teams end of the field, or kicking the ball into the soccer-like net directly underneath the uprights. Most of our team really enjoyed playing gaelic football. The second game we played was camogie, which is played with the same rules as gaelic football, except it's played with a stick and a ball. This game required a lot of hand-eye coordination, and was very difficult to learn, but very fun as well. After the gaelic games, we had another training session with Coach Dowling. It was a very muddy practice, but we learned a lot of useful drills and skills that were fun and helpful. Hopefully we will use these skills in our game tomorrow against the Old Belvedere Rugby Club!
Tuesday, March 26 – Dublin, Photoshoot with a World Cup, and Match against Belvedere
We started Tuesday with a walk, in the snow, to Trinity College! Steven told us some interesting history and information about buildings on the way there. Once there we went to see the Book of Kells, which included history about the making of the book, as well as the book open to a page. Every day the page is flipped in the book. Following that we went upstairs to see the longest library in Europe. We all had a couple hours off after that to explore Dublin. Some girls went to the Archeology Museum and saw the 'Bog' people, others went and walked through St. Stephens Garden (which central park in NY is based off). We then all re-grouped and went to the offices for the International Rugby Board, the woman in charge of female development in Rugby talked to us, and told us about women playing rugby around the world, professionally and locally. She also let us take pictures with the Women's World Cup for Rugby (!!) which was awesome. We then got dressed and ready for our game against Belvedere! The game was a lot of fun, and we all gave our best effort despite the snow and hail! After a great game, we ate pizza with the team in their club house. Their they awarded Dana the 'princess' of the game and Megan 'queen' for being such awesome rugby players! They also tried to teach us how to Irish dance, which was a fun experience. It was a long, very filled day! We were all exhausted by the end of it.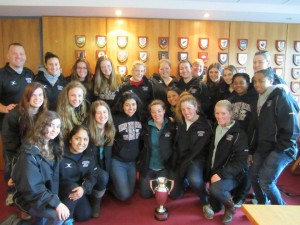 Wednesday, March 27 – Guinness and Galway
After a late start in the morning (Kevin set his alarm for 8 PM rather than 8 AM), we were off for a tour of the Guinness Storehouse. We learned all about how Guinness is made, brewed, advertised, sold, and poured from taps around the world. The last stop was the Gravity Bar on the 7th floor of the factory for a free Guinness. The walls were made of glass, so we were able to see a panoramic view of Dublin. It was amazing being able to look out and see the entire city. We could even see the Aviva Stadium in the distance! After our tour, we began our journey to Galway. Our drive across the country was very scenic. I loved seeing tiny lambs running through their fields. When we got to Galway, we immediately got dressed for practice with Nigel Carolan, who played on the Connacht rugby team. He focused on decision-making under high pressure game conditions. We learned a lot in his session, and we're all really looking forward to applying this to our game tonight! After practice, we got team dinner at The King's Head and then explored the city. I think it's safe to say that we never want to leave Ireland, we're having too much fun!
Thursday, March 28 – Free Day and Rugby
We started off the day with a much needed sleep-in (most of the team woke up around 10:30) and continued on to have a free day until five o'clock. We spent this time by walking the streets of Galway, souvenir shopping, and visiting historical landmarks such as the Spanish Arch and several Cathedrals. Around five, the team reconvened and boarded the coach to play our seconded rugby game, this time against the Galwegians. The Galwegians were great rugby players and they were clearly passionate about the game. We were able to learn so much from them, and the skills we acquired during this game we can take back to the states and use in the future. Afterwards we got the chance to meet the opposing players and share pizza with them. It was such an incredible day and we will never forget it.
Friday, March 29 – We're Basically Harry Potter
Because the game was moved up from today to yesterday, Stephen decided to give us a longer tour around Galway and the surrounding villages.  We met at ten in the morning to depart to the Cliffs of Moher.   On the way we made many stops and saw quite a few castles.  First we arrived at the Poulnabrone Megalithic Tomb.  This was a  a portal tomb in the Burren, County Clare, Ireland, dating back to the Neolithic period, probably between 4200 BC to 2900 BC.  It was surrounded by limestone rock as well which also made it interesting from a geological standpoint.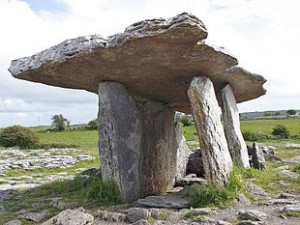 On the way out of this area the team spotted a sheep stuck on its back, and once it was clear that we would not stop panicking until it was righted, Stephen, our bus driver Brian, and our alumnae Leslie went and flipped the sheep back to its feet….phew!   From there we stopped at the beach, then stopped at the ruins of an old church.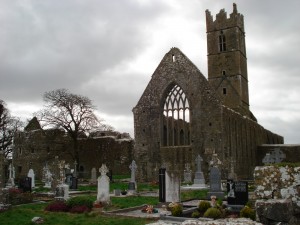 Lastly we arrived at the cliffs of Moher.  The team was especially excited about this (especially because Harry Potter was filmed).  It didn't disappoint.  It was beautiful.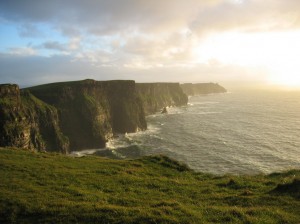 The team explored many trails that lead us through different views of the cliff.  After the cliffs we stopped only once on the way home, at a rocky shore area where the waves crashed up to the cliff we sat on.  Mainly the team just sat to take in the view.  Over all, it was a great day for sightseeing and a great time of bonding with the team.
Saturday, March 30 – 22 Matching Miniature Kevins
Our time in Galway ended Saturday morning when we hopped back on the bus and started our return trip to Dublin. The sights of the Irish countryside flew by as we either tried to soak in the view, or catch up on much needed sleep. With a couple of hours free when we arrived back in the capitol, we ventured out for a final day of sightseeing and shenanigans.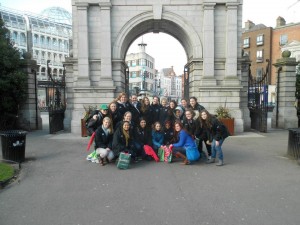 After getting our fill of Dublin, we headed back to the hostel to change into our favorite coach-inspired matching outfits of polo's and khakis, then headed out to see a battle between the Leinster and Ulster rugby teams. Of course favoring the home team, we cheered loud and often for the Leinster men to come out with the win. A tough match that was fought through the last seconds ended with an Ulster triumph, but we were still proud of the fight Leinster put up, and made sure that exiting spectators knew it.
Once we made it out of the swarm of fans in the stadium we headed to our final team dinner. In a restaurant that was just as spirited as we were, the team shared laughs about our adventures all week and planned for the rest of our spring season. It was a spectacular last night in Dublin!
Sunday, March 31 – Farewell, Ireland
After getting on the bus to the airport at 7:45 a.m. and saying goodbye to our beloved tour guide, the team has finally begun to make our way home to America.  It's amazing to think of all of the adventures we've had in Ireland, from the rugby-related activities (such as our training sessions, games against Irish rugby clubs, a tour of the Aviva stadium, a trip to the International Rugby Board offices, and a professional rugby game) to the must-see's and must-do's of Ireland (including a tour of the Guinness Factory, seeing Trinity College Library and the Book of Kells, shopping in Dublin and Galway, and experiencing the Cliffs of Moher) to the team-bonding activities (such as learning the Gaelic games, saving sheep, and team dinners in our khakis and polos).  All of these experiences are unique to the group of girls who went on this trip and have made us a more cohesive team.  We expect that as a result of this trip, our strengthened bond and new skills will allow us to enjoy the game of rugby even more.  Our rugby experience is no longer limited to our practices and games at Lafayette College, but now includes skills and memories developed abroad that will last for the rest of our lives.