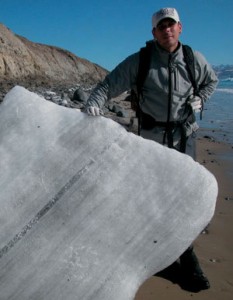 Ph.D. – University of Chicago (Geophysical Sciences)
B.A. – Colgate University (Geology & Biology)
I am an Associate Professor in the Department of Geology & Environmental Geosciences at Lafayette College (Easton, PA, USA).  My specialties are sedimentary geology, paleobiology, evolution, and the geology of Alaska.  I am also an Affiliated Faculty in the Department of Geosciences at the University of Alaska, Fairbanks.
Lafayette is a liberal arts institution located 1.5 hours north of Philadelphia and 1.5 hours west of New York City.  We are situated in varied geological terrain that includes rocks of the Newark Basin, Taconic & Acadian orogenic systems, and Precambrian metamorphics.
Bounce around this site to learn more about the courses I offer, the research I am conducting, and a few outside interests of mine.
CONTACT INFO:
Prof. David Sunderlin
Dept. of Geology & Environmental Geosciences
Lafayette College
4 South College Drive
Easton, PA 18042
Office: 610.330.5198
Fax:  610.330.5717
sunderld(at)lafayette.edu