Meteorology at Lafayette College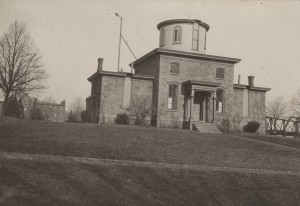 One of my primary projects this semester as an intern in the Special Collections department has been cataloging Lafayette's collection of meteorological data taken on this campus since 1849.  Prior to working at the library, I had no idea the school originally offered courses in astronomy.  Lafayette had an astronomy department and a telescope donated by Traill Green and housed in the "Star Barn," the present site of Colton Chapel.
A significant figure in early American meteorology, James Henry Coffin was a professor of Mathematics, Natural Philosophy, and Astronomy at Lafayette College from 1846 until his death in 1873. In 1846, he began working with the Smithsonian Institution, tabulating data for the Smithsonian Meteorological Project.  He collected information on wind for more than 30 years.
His son, Selden Jennings Coffin (1838-1915) taught Mathematics and Astronomy at Lafayette after his father's death.  Selden Coffin (Class of 1858), tracked weather patterns at Lafayette College from 1858 to 1904, continuing the work of Adam Ramsay McCoy (Class of 1850), who recorded meteorological observations from 1850 to 1858.  Selden Jennings Coffin also became Lafayette College's first Registrar in the late 1880s.
The records contain data from 1849 to 1904 and include the rain record for each year, along with daily temperature highs and lows.  The records demonstrate the changes in meteorology in America over the years and the sheets are addressed to different institutions, ranging from the Franklin Institute in Philadelphia, which was the early center of meteorological study, a post that was eventually taken over by the Smithsonian, and finally, the Signal Service in 1870.
In addition to helping to create a finding aid for the collection, including notes on content, I also researched early American meteorology to provide some historical context.  I learned many things about meteorology that I would not have otherwise known and also found out more about the history of Lafayette College.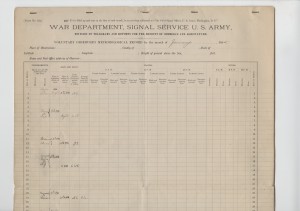 The meteorological collection was only one of the projects I worked on this semester in Special Collections.  Part of the fun of interning at the library was the variety of the assignments, from cataloging meteorological records, to preserving books in Mylar wrap, to photographing memorabilia and preparing new displays, all typical tasks that archivists tackle each day.
Caitlin Lowery is an Advanced Archival Assistant.  She is a senior double majoring in English and Spanish.