The tradition of including drawings, paintings and photographs in books is common in our society because it is an easy and interesting manner to grab the reader's attention and illustrate the story.  Many people, myself included, are accustomed to opening a book and viewing a picture or illustration displayed next to the text or on the front or back cover.  However, there is one type of art form in books that I discovered during my internship; these are fore-edged paintings, and Lafayette currently owns three of them.
Although fore-edged paintings date from the 16th century, they were extremely popular among artists in the 1800s.  A fore-edged painting is a watercolor painting on the fore-edge of a book.  A fore-edge is the edge of the book that you open (as opposed to the spine and top and bottom edges).  When closed, the fore-edges of these books are adorned with gold and nothing can be seen, yet beneath the gold, there is a hidden painting that can be viewed when the leaves are fanned.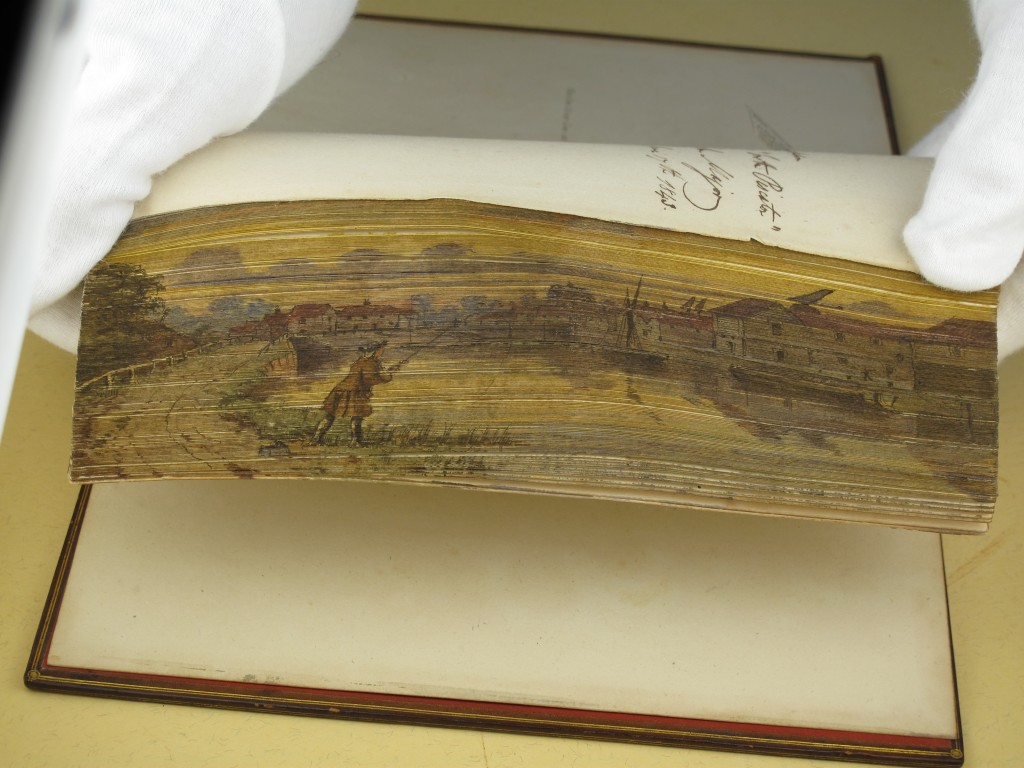 During all of my time spent in libraries, I didn't realize that such wonderful, colorful paintings existed beneath the gold edges of some older books.  What amazes me is not only are the portraits beneath extremely colorful, but they are also incredibly detailed and specific.  Many of the paintings are portraits of actual landscapes and buildings in England.  Fore-edged book's popularity grew in the 18th and 19th century and appeared on bibles, prayer books, travel books and poetry books.
Because of their hidden nature, I began wondering how many people had old books in their attics or basements that contained fore-edged paintings.  Is it possible that even in my house there are books that have been passed down from my relatives that have fore-edged paintings that my family never knew about?  I have a feeling that next time I go home, I will be spending some time fanning through our older books that have a gold edge in hopes of discovering something hidden beneath!
Emily Cushman is a Special Collections intern. She is a senior art history major.