At a young age I realized that I loved going to museums and galleries to view different exhibitions, and now, as an art history major, I have recently become interested in what happens behind the scenes of setting up an exhibit.  Questions such as how the exhibit was created, why certain things were chosen to be displayed and how the arrangement was constructed filled my mind.  This year, as an intern in Special Collections, I have finally been able to take part in assembling an exhibition.  I have been lucky enough to have the opportunity to help set up two exhibits that are displayed at Lafayette: the Johannes A. Gaertner exhibit in the Max Kade Center for German Studies in Pardee and a display of a series of British cartoons in the Special Collection's reading room.
I began my work on the first exhibit just a few days into my internship; my mission was to help arrange an exhibit that showcased Johannes A. Gaertner's pen and ink drawings and selections from his personal writings. Gaertner was a professor of language and art at Lafayette from 1947-1977 and was the founder of the art department.
When I first learned that he created pen and ink drawings I wasn't sure what to expect; my previous experience with these types of drawings had only been in art history class when we studied finely sketched landscapes or detailed portraits of patrons.  However, when I began arranging Gaertner's drawings, I was pleasantly surprised to realize that they were created in a playful, fun manner.  I felt that the drawings displayed a sense of spontaneity; in many drawings, Gaertner seemed to draw each figure in one continuous line, not removing his pen from the paper.  In addition to his artistic enthusiasm, I enjoyed Gaertner's humor and wit as many of his drawings are clever and amusing.  Two of my favorites are The Elephant and En Garde!
The experience of assembling the exhibit was challenging and exciting.  The most difficult part was deciding which images worked well with each other.  Although it seemed simple at first, I soon realized that there were many different possible combinations, and that each new combination would make the viewer look at the drawings in different way!  But, the finished product delivered a sense of balance and insight into the unique drawings of Professor Gaertner.
I also had the opportunity to help assemble an exhibit of British cartoon drawings that are currently displayed in the Special Collection's reading room.  I loved working with the witty, colorful drawings, and in this exhibition, I experienced setting up the exhibit from beginning to end, which finally resulted in hanging the framed drawings on the wall.  I discovered that I enjoyed having the opportunity to complete the entire process of assembling an exhibit, and every time I walk into the reading room I feel a sense of pride and completion.  After finally having the opportunity to help display an exhibition I have learned that it takes a lot of time and effort; however, the moment you view the final exhibit is incredibly rewarding.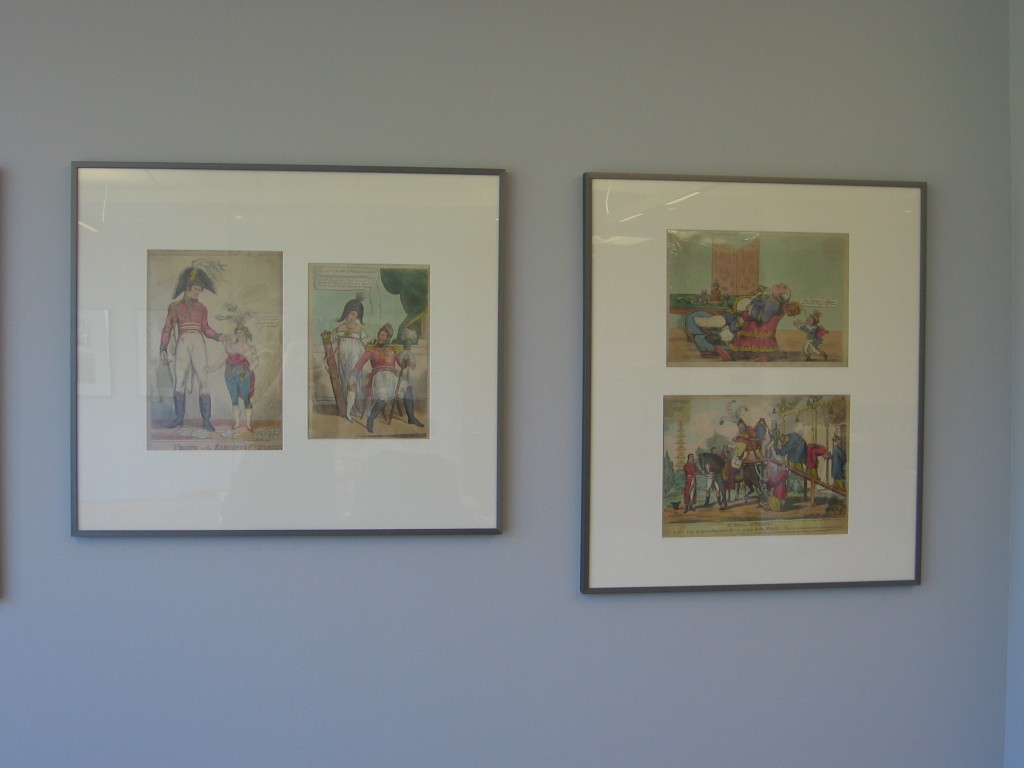 Emily Cushman is a Special Collection's intern. She is a senior art history major.