As an intern for Special Collections, I come across all varieties of information and pieces of history about Lafayette College. Most recently, I read about the Cremation of Calculus, one of Lafayette's lost traditions.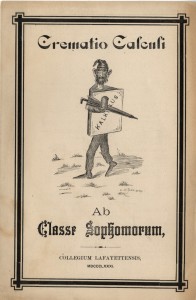 Throughout the 19th century, during Commencement week, Lafayette Sophomores would celebrate their departure from Calculus in a spectacular way. Originally, students would congregate on the quad around one or two o'clock in the morning where they would create a bonfire and burn all of their Calculus text books and afterward, parade through the town of Easton. Over time, this event grew larger and larger. Before the 'cremation', Lafayette Sophomores would have fictional trials holding Calculus accountable for innumerable crimes. These trials were often modeled after civilizations in history such as Romans, Egyptians, Native Americans, and other time periods. Sophomores would stop at nothing to outdo the previous year's festivities. The class of 1882 went as far as stealing a horse from the college stable and attaching it to a makeshift hearse through the city of Easton as a part of their cremation ceremony.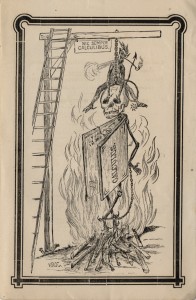 Eventually this tradition grew into a much larger spectacle. Rather than literally burning their books, students began to write plays which they would perform in the Abel Opera House of downtown Easton where they would figuratively destroy Calculus. These performances varied from year to year, but usually they would consist of the traitor Calculus cast as the antagonist while a Lafayette sophomore would play the protagonist. In the end, Calculus's plot would be foiled and the sophomores would prevail. At the finale, Calculus would be sentenced to death while the sophomores rejoiced after defeating their foe.
At the rise of the twentieth century, the Cremation of Calculus tradition ceased to occur at Lafayette College. I am not sure exactly why this is. Perhaps it was due to students' lack of ambition or maybe the tyrant Calculus has finally achieved his goals and conquered the students at Lafayette.