Welcome to the blog of the Lafayette College Archives and Special Collections! We're hoping these posts from the staff, interns, and guest writers will serve to shed some light onto the exciting work being done in the Special Collections and College Archives, as well as highlighting some of the most interesting and exciting objects in the collections. If you have any suggestions for future posts, please post them in the comments section!
Although much of my work in archives has focused on the obvious—working with papers, organizing collections, and other paper-based activities—I've been tasked with something a little more out of the ordinary. I am in the process of creating a Facebook profile for the Marquis de Lafayette. Although most Lafayette College students are fully aware of the person for whom their school is named, hopefully this profile will provide a light-hearted, yet educational quick insight into the life of the Marquis. In addition, we are hoping that this profile will serve to advertise some of the events organized by Special Collections, including some of the upcoming events regarding David McDonogh, the first African American graduate of Lafayette, and a former slave who became a well-known doctor. Everyone should definitely plan to attend the event on February 23rd at 12:15 in the Gendebien in Skillman Library, where lead archivist Diane Shaw and fellow intern Ng'ang'a wa Muchiri will detail their research into the personal communications of McDonogh.
I personally find the Marquis de Lafayette to be particularly applicable to college students—and thus, terribly deserving of his own Facebook page. He first came to the United States upon the ship the Victoire at age 19, determined to fight for the ideals of freedom and democracy he believed in, for a country which he had never been in before. Although my personal journey from home to Lafayette was fairly short geographically, I can understand how some students from states farther away can feel the same spirit of adventure when coming to college for the first time—exploring new ideas, new cultures, and new languages. Lafayette's success in the colonies serves as a good example for students who wish to succeed in college. In addition to his great military success, Lafayette greatly involved himself in the community of the United States, forming a close lifelong friendship with George Washington, as well as continuing his involvement in US politics when he returned to France. Lafayette is similar to the modern multi-tasking college students, attempting to balance a wife and children in France, while simultaneously attempting to influence foreign policy and military strategy in the United States and France. Thus, even students attempting to balance a full load of courses and extracurriculars can appreciate his above-average energy level and motivation!
The Marquis, possibly best known on Lafayette campus for the several statues behind Hogg Hall and Colton Chapel and as the namesake of the favorite campus hangout (Gilbert's), is really quite the contemporary character—filled with the enthusiasm and love of knowledge which so many of Lafayette's students possess. In short, if you have a Facebook page, please friend the Marquis, and learn more about his favorite books, movies, music, and quotations!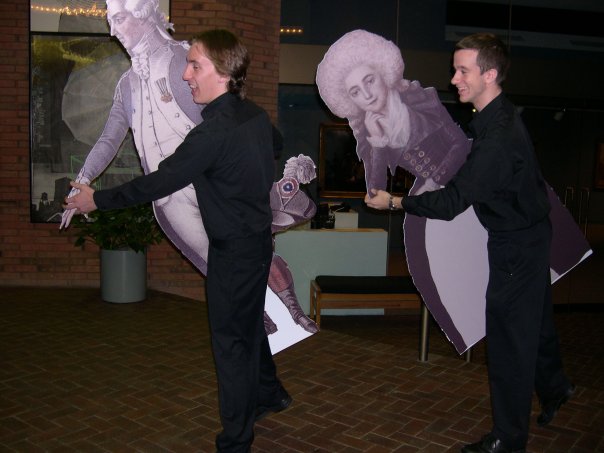 Sara Walter is the Advanced Archival Assistant. She is a senior double majoring in History, Government and Law, and Spanish.