One, if by Land is not a film that attempts to have answers to the noisy debate around immigration policies, but through grim and evocative imagery of these journeys, it raises questions as to why this impossibility should exist in the first place.
Cinematography: Andy Smith & Joel Vargas
Editor: Alexia Prichard
One if by Land…Awarded 2011 Richard King Mellon Research ARC Fellowship.
Awarded an honorable mention at annual University of Film & Video Conference (2015).
Official Selections:
Let's All Be Free Film Festival, London, U.K, 2015
Ethnografilm Paris, France, 2016
Show Me Justice Film Festival, Warrensburg, MO, 2016
Sebastopol Documentary Film Festival, CA, 2016
Woods Hole Film Festival, MA, 2016
Southside Film Festival, PA 2016
Middle Coast Film Festival, IN, 2016
Pittsburg Independent Film Festival, PA 2016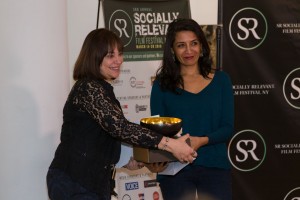 Awarded Best Documentary Short at Socially Relevant Film Festival in New York City, March 2016. (Photo credit Hua Yeh)