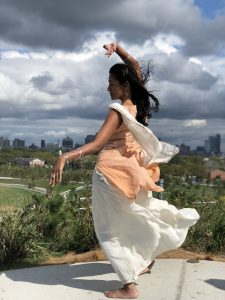 Nandini Sikand, with Kakoli Mukherjee is the co-founder and co-director of Sakshi Productions (www.sakshiproductions.org), a neo-classical and contemporary dance company.  Trained in Odissi since the age of 7, she has trained most recently with Guru Durga Charan Ranbir. Her work has been funded by LMCC (Lower Manhattan Cultural Council), the Asian American Arts Alliance and Joyce Soho (subsidized rental program) in NYC, and combines the use of film imagery, live music and elements unique to Indian theatre and performance.  Her performance credits include Alvin Ailey, Lincoln Center, Joyce Soho (multiple presentations), the United Nations, Danny Kaye Playhouse, (Hunter College), Brooklyn Museum of Art, Pace University, John Jay College, Manhattan Ensemble Theatre and The Graduate Center, CUNY. She is also the Associate Director/Choreographer and on the board of directors for Harmattan Theater, (www.harmattantheater.com), a performance group committed to an environmentally and socially engaged theater.
Sakshi Productions will tour in Fall 2019 in New York City, Washington D.C and Philadelphia as part of Riyaaz/Practice alongside Courtyard Dancers, Dakshina Dance Company and Sattriya Dance Company.
REVIEWS
Phindie: Perhaps the most profoundly moving of all the works was "Gestures of Longing" based on Linwood Smith's poem "The Dream Song of the Deaf Man." Choreographed by Sakshi Productions' donia salem and Nandini Sikand, they, along with fellow dancer Jubil Khan, combined the gestural vocabulary of American Sign Language with classic Indian odissi dance and videos of words and phrases by Fabian Rogers. Performed in silence, with just the sounds of the dancers' breathing, sighing, and foot stomps, the piece gave the audience a glimpse into the experience of the deaf and hearing impaired, and the importance of facial expressions, postures, gestures, movements, text, and vibrations to illuminate what cannot be heard. Read More….
Narthaki: "My favorite piece by Sakshi was Ravana's Homage…the dance is a "homage  to Shiva, the ultimate cosmic dancer," and the powerful beginning of the piece, with its sharp warrior like movements combined with the dramatic lighting embodies this idea of a cosmic dancer. The Odissi work was beautiful and powerful, particularly when done in canon." http://www.narthaki.com/info/rev12/rev1211.html
Eva Yaa Asantewa, dance critic: "The evening's crown belongs to Symbiosis–a palpably tender, occasionally playful duet in the sensuous Odissi tradition and shared by Sikand and Singh…Symbiosis was made and is danced by two beautiful masters who, in their clearly loving attention to detail and nuance in movement, reward our witness." http://infinitebody.blogspot.com/search?q=sakshi
New York Times: "I adored the work's firmly statuesque positions, its riveting use (occasionally) of the pelvis and upper torso tilted drastically sideways away from each other, its flow of gestures, its extraordinary side-to-side language of the eyes (heightened by full eyeliner for both sexes). And I loved the way — in rhythm, spatial design and mutual address — the duet kept changing." http://www.nytimes.com/2009/08/22/arts/dance/22borders.html?_r=1&hpw#
Phoolan Devi: The Bandit Queen, a contemporary opera with composer Shirish Korde. See a clip here: http://www.youtube.com/watch?v=5wKy7PH95SI
Read a recent article about the production: http://www.thehindu.com/features/magazine/the-bandit-queens-arias/article4633607.ece