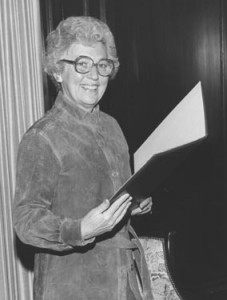 The Reibman Papers (1955-1998) document the pioneering political career of Jeanette Fichman Reibman and trace the developing role of women in U.S. politics from the 1950's to the present.  Reibman became Pennsylvania's first woman elected to the State Senate in 1966, the first woman elected to Senate Leadership as Minority Caucus Administrator in 1990, and the first woman to serve on the Lafayette College Board of Trustees in 1970. The bulk of the records dates from the late 1960's to the early 1990's and relates to Reibman's political career in service to the state of Pennsylvania and the 18th Senatorial District. Topics of interest throughout the papers relate to education, economic development, the arts and the environment, as well as issues pertaining to women, children, families, and the elderly.
Pennsylvania State Senator Jeanette Reibman donated her papers to Lafayette College over a period of two years, 1993-1994.  Two major installments were received in April of 1993 and November of 1994.  These installments represented the bulk of Senator Reibman's political papers as maintained by her legislative office in Harrisburg.  In July of 1994, Reibman's Senate office video library was donated to the College and added to her papers.  In 2002-2003, Elaine McCluskey Stomber processed the collection with funding from the Pennsylvania Historical and Museum Commission.
Manuscript material within the Jeanette Reibman Papers has been rehoused in acid-free folders and boxes.  All metal fasteners were removed and replaced with plastic clips when necessary.  Original plastic ring binders and notebooks were removed from the collection and replaced with acid-free folders.  Newspaper clippings have been photocopied onto Permalife bond paper.  Original clippings were discarded. Most photographs are filed within Series IV, Subject Files, Subseries 1. General under the folder title "Personal-Photographs."  All photographs were individually sleeved within fold-lock Mylar envelopes and then placed within acid-free folders. Videocassette tapes remain in their original plastic or paper cases and are housed within record center boxes.  Audiocassette tapes are placed within individual plastic cases and are housed within audiocassette boxes.  Audio reel tapes are individually housed within acid-free audio reel boxes.
Access to the Jeanette Reibman Papers is permitted to qualified researchers without restriction.  Photocopying and publishing from the collection are allowed, subject to the guidelines of the repository and the laws of copyright.