Students Publishing 1855-1880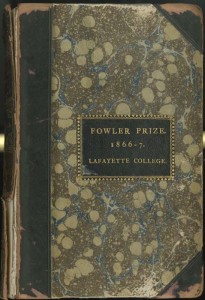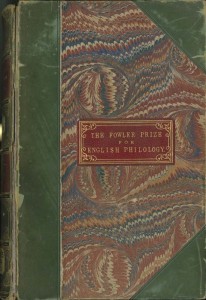 The Fowler Prize was established in 1861-62 by Professor William C. Fowler, friend and teacher of Francis March, to encourage students in the recently formed study of English at Lafayette. The prize was awarded annually to a member of the senior class. Above the covers of two books given as prizes. On the left is the book awarded in 1867, The Origin and History of the English Language by George P. Marsh. In 1871 (right) several volumes were awarded, including The Gothic and Anglo-Saxon Gospels of Wycliffe and Tyndale, arranged by Rev. Joseph Bosworth, and A Compendious Anglo-Saxon and English Dictionary, written by Bosworth.
The College Archives also holds Fowler Prize-winning essays, including those below. Click on the image of each cover below to read the essay.
Click here for a PDF scan of the inscription of the book awarded in 1866-67. Click here for a PDF scan of the minutes of the faculty meeting in December 1861 at which the faculty accepted Professor Fowler's gift of the Fowler Prize.