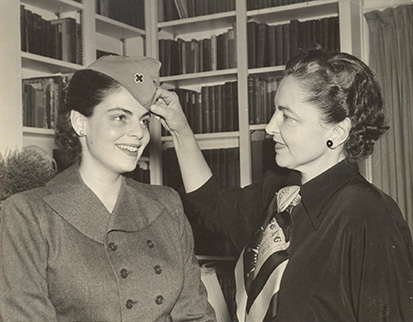 "Helen Stevenson is leaving for Korea and her mother 'feels like a fire horse smelling smoke.' Helen, 22, has just signed up for two years as a staff assistant in the Red Cross clubs near the front lines….There's no glory and even less glamour, and Helen cut short a tour in Europe to take the assignment. But it's not surprising. Her father, William E. Stevenson, now president of Oberlin College, and her mother, Eleanor, spent several years during World War II doing the same sort of thing….'And I don't even know a general from a Corporal,' said Helen, who graduated from Colorado College in June. 'I'm going to find out, though, and I hope I can be of some use. I can't let the family down.'"
—- Cleveland Press
---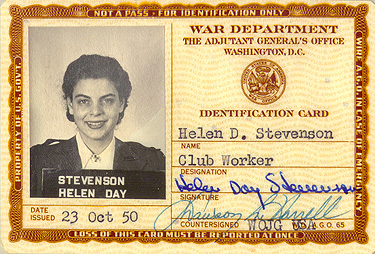 Can't believe I'm really on my way.  Seems unbelievable, fantastic….Here I am a woman, 22 and on my own. Financially independent, earning my own salary, and off with new people to a strange, dangerous war-sticken country….we were off on a 3:30 p.m. train trip for Tacoma, Washington.  The longest train trip I've ever had. We won't be in Tacoma until Tuesday morning. My "being nice to all soldiers" has started already. Four of us Red Cross gals spent several hours drinking beer & talking to some soldiers in the club car.
—- HDS diary, 29 Oct. 1950
---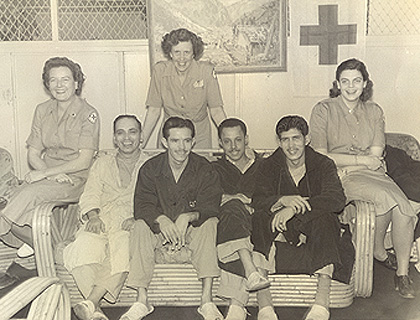 A week ago tonight we had our "Grand opening party" (March 12) and it was really terrific. The place looked wonderful with lovely furniture and everything done in gay color, even the waste paper baskets were painted every color of the rainbow. We dressed two Gray Ladies and our dear Papasan up in clown costumes….Patients with great big casts on their legs and arms, patients on crutches, patients in wheel chairs, and patients, patients crowded into the room. Each was given either a balloon or a noise maker, and the whole atmosphere was so gay. I've never seen the G.I.s more responsive. Earlier that morning I had gone down to the Base officers' club and talked them into sending us their excellent Hill Billy band….You should see me playing up "Oh, those poor wounded men from Korea haven't heard any music in sooo long" angle — 'tis enough to make tears come to your eyes. Anyway I sold them on the idea. So that evening we got the band and the officers danced to records. The boys went wild over the music and we had delicious cake, coffee, and lots of popcorn. The C.O. of the hospital, Colonel Knauf, came in and made a little speech and was so pleased with the place. Libby and I were thrilled too because we had built the "jurnt" out of nothing and done it ourselves.
—- HDS to family, 19 Mar. 1951
---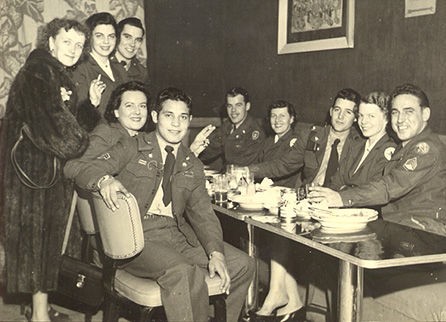 Saturday night I lined up five Red Cross gals in our group and we met about seven G.I.'s who had left my hospital Friday and we were determined to give these boys a good time before they left for Korea and I think we did. We took them to dinner and then we sat around the Old Kaijo dancing and "chewing the fat" until the wee hours. I think the old Red Cross really came through for those boys who rarely get to be with women other than Japanese "bad girls." We got terrific satisfaction out of the evening.
—- HDS to family, 2 Dec. 1950
---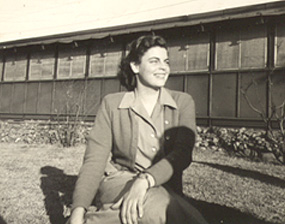 My orders had come through to go to Korea and I was to report to Tokyo as soon as possible. I could hardly believe it. I was so thrilled and excited I nearly hit the roof….
Some of the patients really got quite upset when I told them I was off. They certainly are pessimistic and discouraging about Korea. They promise me that I will loathe and detest every bit of every part of Korea and that women have no place there. They feel so strongly about it. Well, ya can't say I wasn't warned!
—- HDS to family, 7 Apr. 1951
---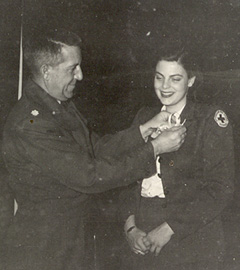 In the evening the C.O. of the hospital, Colonel Knauf, gave me a surprise farewell dinner at the Officers' Club. I nearly died, I was so impressed. I was so touched. He stood up and made a little speech about me and the job I had done and then pinned an orchid on me….
---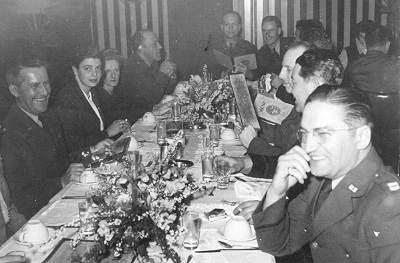 Then the other Red Cross gals presented me with a silver perfume bottle. At the end, a large cake was brought in for me and I had to stand up and make a speech. What an evening!!! I'm afraid the Colonel has somewhat of a crush on me. I sat on his right side and his wife sat on his left. He kept squeezing my hand all evening, and later on really got terribly emotional….It was a terrific send off.
—- HDS to family, 7 Apr. 1951
---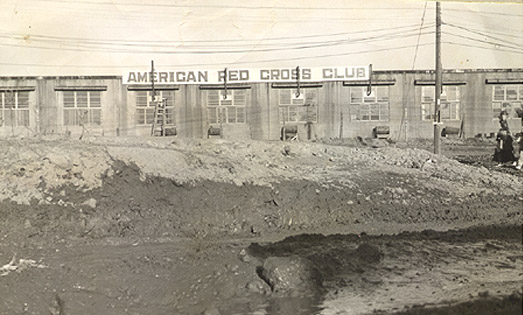 The minute we landed at K-9 (the airport here) I began to realize what people meant about Korea. The country is nothing but hills without a sprig of green and no trees on them at all….The Club doesn't look like much from the outside because of all the dust and dirt. It is a narrow long building (one story). The main section is filled with square tables and chairs, and coffee and doughnuts are served continually all day and every day from when the Club opens at 8:00 a.m. until when it shuts at 8:30 p.m….The Club is always jammed. They have had as many as 8,000 in one day. Yesterday we considered a slow day because we only had 4,566 men in the Club. Because Pusan is such a stopping off place, we get many men who are on their way to the front. We also get oodles of U.N. men which is so interesting. Lots of British, Scotch, New Zealanders, Turks, South Koreans, French, etc., so the whole thing is very international. The day before we arrived the Marines invaded the Club, they served about 10,000, can you imagine?
—- HDS to family, 16 April 1951
---
The men greet you so enthusiastically 'cause most of them haven't seen a white woman for months. Wish you could see me in my G.I. clothes with dainty, little combat boots on my feet. The mud is usally up to our knees and we are covered with light brown dust from head to foot. We make a gallant attempt to stay as neat and well groomed as possible. 'Tis hard to hold on to your femininity….I love this life and you would too. You get so you really don't mind the many discomforts and everyone is in the same boat. The war here is depressing as hell, so futile and those poor, dear, cute G.I.'s. You get so you try and not think about it (however it is just exactly what we always are talking about.) You kind of live from day to day – we work like dogs and we work all the time.
—- HDS to her friend, Ruthie Fuller. 17 April 1951
---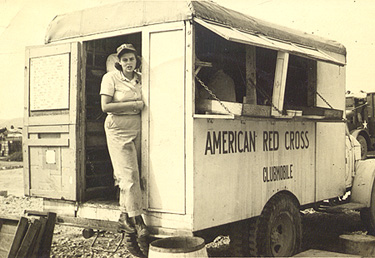 We have one clubmobile and it has quite a history. It is a Russian truck that was captured by some G.I.s in North Korea. They brought it down to Pusan and fixed it all up for us. Put in donut trays and painted it white and fixed one side so we could serve out of it — and gave it to us as a present. All the instruments on the dash board are written in Russian! We operate out of our donut and coffee kitchen here at the Club. When we take off on a run we load the Russian truck up with trays and trays of donuts, huge urns of coffee and paper cups….We go to out-of-the-way little units of men and to big replacement centers and down to the piers and docks of Pusan harbor. We get ever so many more requests to go to different units than we could ever hope to handle so we try and hit only the places where the men can never get to our club. We also go to the various hospitals to serve the patients. It is so exciting to pull into a place and have the boys rush out to you so enthusiastically….
—- HDS to family, 22 April 1951
---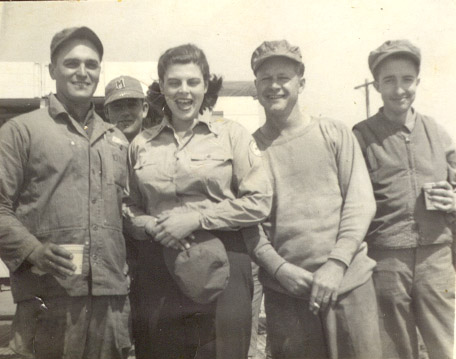 I went out to a huge base full of Marines (1st Marine Division) and also went to an air port 35 miles away which was full of Marine fliers (1st Marine Air wing). I am afraid that the Marines are my favorites. I had such a nice day and I must have served 3,000 men and had to miss some because our donuts gave out. It was the first time we visited them and they were so cute and excited. They have absolutely nothing in the way of recreation out there and they could hardly believe their eyes when they saw a white woman. They took a million pictures of me and made such a fuss over me that you might have thought I was Lana Turner. I guess I seemed like Lana to them. It was wonderful every moment of it….
—- HDS to family, 30 April 1951
---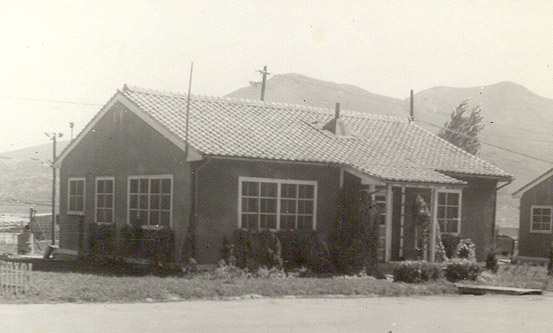 I lead such a fascinating life. We feel all the time that we are right in the thick of things. It is a hectic life and you give and give and give until sometimes you never want to see another person again. Our living quarters are so nice that men stream in and out. If you were to walk into our small sitting room you could find gathered together colonels, privates, sergeants, and captains. There is a rule out that no officers can drive his own jeep so when they come to see us we make them bring their drivers in. We drink beer and sometimes whiskey but the latter is almost impossible to get and there is much talk of how and where to get it….
—- HDS to family, 30 April 1951
---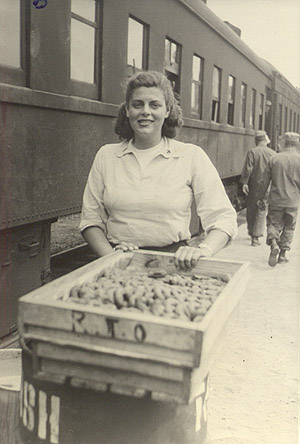 I served 600 men on the train this morning. It was pouring rain and I had to keep running on and off the train to fill coffee pitchers, etc. and it was a complete and utter mad house….One group of men, I guess, were afraid that they would never see another donut and literally attacked me and took the donut tray and made off with it. The coffee was stone cold and the donuts soggy and repulsive from the rain but the men loved it any way….
—- HDS to family, 27 May 1951
---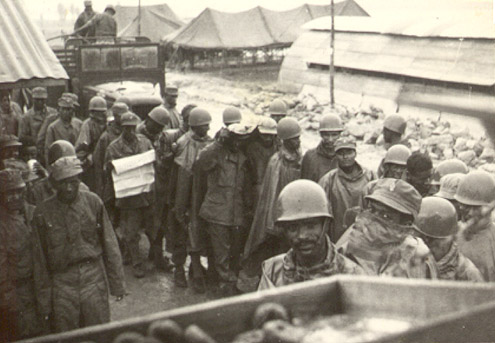 …I also served 1,500 Ethiopians. The Ethiopian Colonel (a terribly attractive Colonel Manual, who was educated in England. I was mad for him and gave him a whole bag of donuts so taken with him was I.) Anyway, the Colonel gave the order that the men could line up. Being as how it was a Sunday, the day of rest, and none of the Ethiopians were out on maneuvers all 1,500 came charging out of their tents at once and the longest cue I have never in my life seen immediately formed. It was just wild and it took me two hours to serve….They were a cute bunch and after it was all over I was told by the colonel that they prefered tea to coffee but if they had to have coffee then they liked it black (and we had put cream and sugar in the pots and served it that way and it would have been ever so much easier to serve it black. I nearly died. Taught me a lesson. Next time I serve "dem ferriners" I'll ask how the little dears want their coffee.)
—- HDS to family, 27 May 1951
---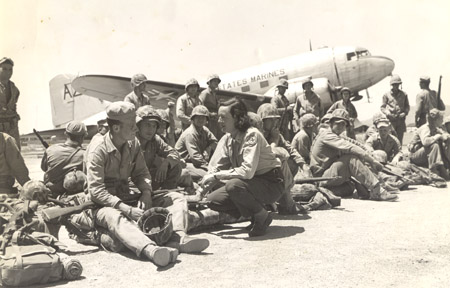 For the last two days I have been out at K1, the Marine air base north of here serving coffee and donuts on another terrific Marine rotation. What a time we did have…It was all simply thrilling…. Libby and I served for the two day operation and we dished out coffee and donuts to seven thousand men. I just wish I had the power and ability to describe in words what it was all like. When we first got there in the morning the ground was covered with Marines lying on their packs waiting to get their flights north….Most of them had been waiting there for hours and had had nothing to eat but their cold C rations that come in little tins….Then the planes from the north started coming in. As they taxied up the men who were to take the next flight lined up to get aboard. Then the ones going home on rotation would get off the planes and what a beat up dirty bunch they were too and what a difference between them and the Marines just in from the states. The Marines just getting off the planes came off very grimly and sternly without a smile and never a word. I felt sorry for the ones going up. They would look eagerly at the ones going home on rotation and you could tell that the new ones would give their eye teeth to be able to talk to the ones who have been at the front these past months….
—- HDS to family, 9 June 1951
---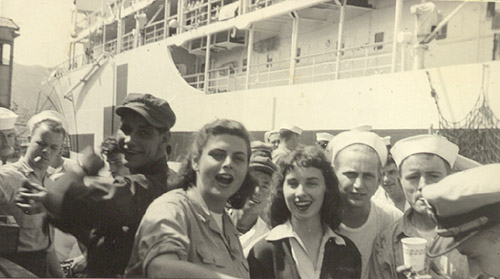 All the gals who were in Europe say that this is their roughest Red Cross experience. They seem to have definitely decided that a year over here is enough (if not too much) for anyone. Most of the men stay over here nine months. The nurses and Special Service girls only three months so you see what I mean. However, I love what I am doing. I can frankly say that I have never been happier and it is all so fascinating. I do feel terribly keyed up all the time. I can't wait to get up in the morning. The girls who have been over here since October are all so tired, it shows on them and I think they are all good and ready to go home. I have no desire to come home yet, myself. We all kid and say well, when they send me home it will be in a straight jacket! But you know me, I'm very normal and well adjusted and you have to be just that to stand the life over here….
—- HDS to family, 15 June 1951
---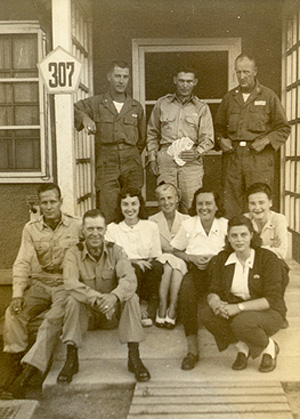 I've been awfully gay socially lately. Much too much becasue Lordy I'm tired….Another Red Cross gal and I gave a party to end all parties last Saturday night. We went through channels and got two cases of scotch for the event and believe it or not they drank 24 bottles of Seagram V.O. (at $1.55 a bottle — pretty cheap actually) (You better leave this section out when sending this letter to relatives.) All the Red Cross girls attended and I'd invited all my special friends and it was gay and very wet….We had a couple of fist fights and a full colonel passed out but it was a good party believe me. All my Marine night fighter pilots attended (my most favorite people). They are all so attractive and all married. (I've decided to call my book I Knew Your Husband. And don't think that it wouldn't sell 'cause it would — like hot cakes.)
—- HDS to family, 18 September 1951
---
My new assignment is on an Air Base just outside of a town called Suwon 20 miles south of Seoul….I came down here Monday afternoon by jeep from Seoul. There has been a lot of guerilla action lately on the road I travelled, but it occurs mostly after dark….This is a large base…besides having the 8th Fighter Bomber Wing, it has several Army Engineer outfits and a large anti-aircraft Artillery battalion. Huge guns surrounded by sand bags circle the field, so panicky is everyone of an enemy attack, for these bases are the first places their air power would head for. In fact they have hit the fox holes outside of our quarters a couple of times a week because of a small enemy biplane that flies over both this base and Kimpo dropping small bombs. He is called "bed check Charlie" and they just send one over and every time one is shot down they send another. The Chinese plane is so small and flies so low that our fighters have a difficult time shooting him down. "Bed Check Charlie" has caused little damage and fewer casualties but it is just enough to keep everyone all ruffled up over it.
—- HDS to family, 2 October 1951
---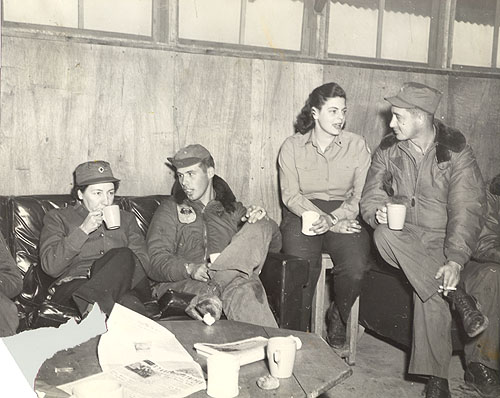 Things go along well here. Two pilots just in from a jet mission came into the canteen and both burst into tears because half an hour before their buddy had been shot down. We listened to them pour it out when one of them with tears rolling down his face asked the question we've all heard a hundred times "What makes you girls come over here and get into this mess?" Then suddenly because they had cried in front of us and we had listened to them they knew the answer to their question. We all looked at each other and they understood.
—- HDS to family, 24 October 1951
---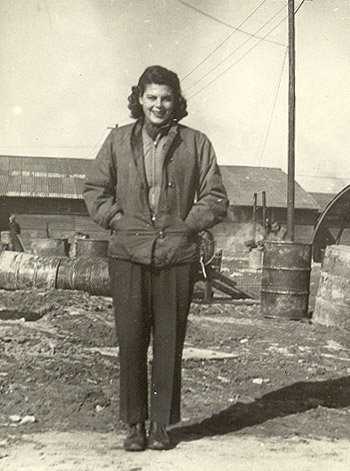 I've had a hard decision to make lately. Metzi (our supervisor) asked the five of us (the only ones left in Korea out of the original two groups that arrived last November) to extend our time in Korea until May….We asked for a month's leave in the States…but ARC can't afford that either. None of the other girls are going to extend. I was at a terrible loss to know what to do. If it meant up front with the Army then I would have definitely extended until May. I finally told her that I would not extend….
What would you have thought if I had decided to stay until May?… I'm sold on the organization (even if it is penniless) and sold on this type of work so I'd join up again quick as a wink if U.S. troops went to war elsewhere. This has been such a terrific experience. I have just adored it, never been happier and wouldn't have missed it for anything!
—- HDS to family, 16 December 1951
---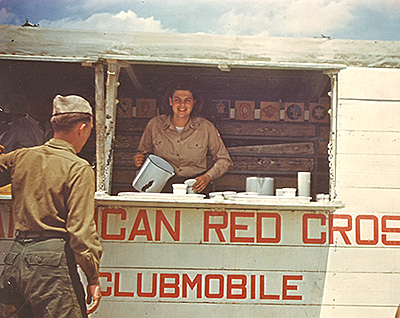 In a letter to Helen just before her return to the United States, her mother wrote:
There is no other work as fascinating and as rewarding and as deeply wonderful. For the rest of your life you will have real values. You know now what is important. Nothing matters except human relationships and kindness and service. I am so happy that you have had this experience. You can never forget it and never be trite, petty, little or mean. If only everyone in the world could have a similar experience we would have peace tomorrow and forever….
—- EBS to HDS, 5 January 1952