The KSAT is a scenic 2.4 mile path that runs along the Bushkill Creek and continues through downtown Easton. Art works currently located along the Trail include contemporary sculptures by Karl Stirner, Willie Cole, Patricia Meyerowitz, and David Kimball Anderson as well as the 75-foot tall Soldiers' and Sailors' Monument in Centre Square and the 9-foot bronze Christopher Columbus statue by Giuseppe Donato located in Riverside Park.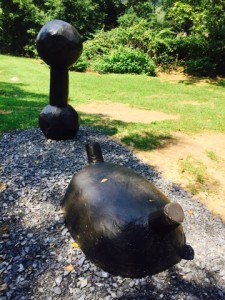 2015 has seen the arrival of three new installations: Lauren Madsen's Nobori and both Patrick Strzelec's Jack and Jill (shown) and Jungle. The Trail also hosts the ever rotating Young Master's Wall that is refreshed with new works by local groups regularly. Check out the KSAT map.
It's a great start, but with miles of open trail, we've only started down this path. With your support, we can transform the Karl Stirner Arts Trail into a major destination that will attract lovers of the arts and outdoors from points near and far. Partners are working to raise funds to install a neon work by internationally acclaimed artist Stephen Antonakos on the iconic smoke stack of the adjacent Simon Silk Mill. And 2016 will also see the arrival of the Possible Realities Two exhibit winner which you voted on.
For more information about that and the trail in general, please visit our dedicated KSAT Trail site.
image credit (Stirner sculpture): Chris Post, Express-Times