Step 2: Breaking the Habit
Over the past week, I have found myself leaving the light on in my room (both in the closet and the actual light for the whole room) left on after having locking up my room completely as I am leaving for class. Even with a slight conscious awareness that I will soon have to change this behavior, and knowing that it is wrong to leave the lights on and waste so much electricity, I am still doing it. Although there is no excuse for the quick flick of a light before leaving for a day of classes, I will say that I am always in a mad rush to get dressed, put myself together, grab my books and bag and be out the door within 10 minutes after having rolled out of bed, and turning off the lights is the last thing on my mind. Yes, being in a hurry everyday is a significant reason why I cannot simply take less than a second to switch a flip, but maybe a major reason why I don't take it into consideration enough is because I really don't know the impact that this behavior really has on the environment. We all use electricity, pollute, litter, emit greenhouse gases throughout our daily lives, simply because we really don't know the impact it has on the environment. I think if I really knew the negative impact I was making, I would be more mindful of my actions.
This year marks the eight year of the worldwide participation of Earth hour, in which millions around the globe turn off their lights for an hour. This mass participation is anticipating the release of the Intergovernmental Panel on Climate Change's report on global warming today. As Colin Butfield explains in the article, the significance of the release of the report and Earth Hour is massive, "Climate change is the biggest environmental threat facing our planet – it's real, it's happening right now, and we need to act fast." (Aldred, 2014)
It seems to be evident, that with increasing awareness of global warming, the more participation and actions are taken to take part in an event to help combat the issue. The more aware we are of what is happening to our environment, and the impact that our actions really do make, the more likely we are to take part in an action that would help the situation, or to change our behaviors. Just as I had suspected, we don't really think about the effect that our actions may have on the environment, because it's not really clear. With the increasing awareness of global warming and the seriousness of the issue, the more likely we are, and I am, to change our behaviors.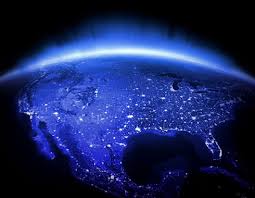 Aldred, Jessica. "Earth Hour: Millions to Switch off Lights around the World."Theguardian.com. Guardian News and Media, 28 Mar. 2014. Web. 31 Mar. 2014.