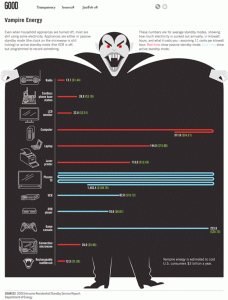 Since I decided on my sustainability challenge I have noticed my unfriendly environmental practice much more. I saw more often that I was leaving my phone charger, laptop charger, hairdryer, etc… plugged in when they were not in use. I think at first I may be forgetful, but I hope that it becomes a habit to unplug these sorts of things when I am not using them. In addition after researching the topic of idle chargers some more I found some interesting information from the article I found regarding the issue of have your device plugged in when it is fully charged. I found this article that was published in the Stanford magazine and they had performed research to see what sort of numbers we could associate with the energy guzzling of chargers. Interestingly enough they found that devices that are fully charged, but still plugged in consume 60% of the energy they consume while actually charging (Chan, 2011). I found this to be a rather alarming fact that has inspired me to slightly modify my challenge.
For my challenge I will try my best to unplug idle charges and appliances, but I believe I will also try to unplug devices from their chargers once they are fully charged. I think this could be possible if I had my phone fairly well charged before bed and then charged it in the morning so I wouldn't have it consuming unnecessary energy throughout the night. I also think I could avoid charging my laptop throughout the night. Basically I think I would form my habits around only charging when necessary rather than when it is convenient. I think this practice would couple well with unplugging of idle chargers and it would increase the benefits of my sustainability change. In addition this article posed some helpful advice on how the behavior of eliminating these energy "vampires" can be done more easily. It was suggested that a power strip contained all the devices so that unplugging all was as simple as unplugging one plug.
This piece also does a great job of identifying what behaviors we do the most often to contribute to this poor practice. They identify which devices are the most commonly used and contribute the most to this problem. The graphic they made to gather all the statistics helps to illustrate the magnitude of the problem giving us an idea of what changes will be the most beneficial.
Chan, Joshua. "Vampire Energy: Essential Answer." Stanford Magazine. N.p., n.d. Web. 1 Apr. 2014. .