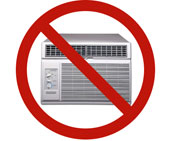 When I was in Spain living with a host family, I was very aware of the power and water that I was using because we were actually instructed to do so by my program out of courtesy to our host families. I had to take short showers and always turn off the lights and power strip when I did not need to use them. It was extremely hot and there was no air conditioning, but I had a small fan in my room that I always had to turn off when I left the room. These are things I do not think about at home.
I have always been pretty good about turning out the lights in a room when I leave it and unplugging chargers when I am not using them, but I never think about the air conditioning and heating at my house because my parents control that. At school, my room can get very warm because the heat is on. My roommate and I have been using our air conditioning unit every day this winter (despite the freezing temperatures outside) because our room is so warm. We usually just leave it on even when we are not in the room. This consumes a lot of unnecessary energy every day. The sustainable behavior I am challenging myself to change to is consuming less energy by using my air conditioning unit less often.
I have chosen to change my energy consumption because the footprint calculations said this was the biggest factor of my ecological footprint and it is something that I can very feasibly improve in my day-to-day life. However, I do anticipate challenges to this change. It is not comfortable to be too warm. Right now it is very cold outside, but soon (hopefully) it will start to be very warm outside and resisting the air conditioning will become more and more difficult. My roommate will also be a challenge to this behavior change because she will definitely want to turn the air conditioning on every day. Sometimes it actually is almost impossible to sleep because of how hot it gets in our room without the air conditioning, so that is a big concern for me over the next few weeks. I will do my best to reduce my air conditioning use as much as I can despite the obstacles.