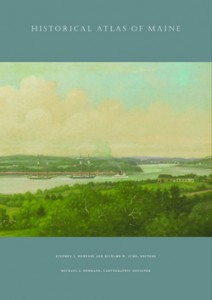 Work by DSS's John Clark, Data Visualization & GIS Librarian at Skillman Library, will soon appear in print. John is a contributor to the Historical Atlas of Maine (University of Maine Press, 2015). The Atlas, edited by Stephen J. Hornsby and Richard W. Judd with cartographic design by Michael Hermann, traces the historical geography of Maine from the ice age through to the year 2000. It includes a cartographic narrative of the long history of Maine stretching from the history of the region's native peoples, through to industrialization and the rise of tourism. This extensive collection is the culmination of work by many hands stretching over more than a decade at a cost of nearly one million dollars. Funding for the project was provided principally by the National Endowment for the Humanities, the State of Maine, the University of Maine, and a number of private foundations.
John is one of a number of contributors and was responsible for five of the seventy-six atlas plates. These responsibilities included the overall development of the textual and visual narratives presented in the plates as well as the extensive archival research and historical GIS development that went into the original maps, graphics, and archival images which form the narrative elements of the plates.
John's research focused on the development of energy resources and transportation between the mid-19th and the late-20th centuries and his work includes plates on railroads, streetcars, electrification, and the rise of the automobile. Each one documents how economic and technological development mixed with the state's regional culture, creating unique patterns of modernity in Maine which persist to this day.
The book will be available for purchase from the University of Maine Press and on the shelves at Skillman Library later this month.
---
For more information on starting a digital project with DSS or applying for an internship opportunity contact us at digital@lafayette.edu, or call (610) 330-5796.