Overview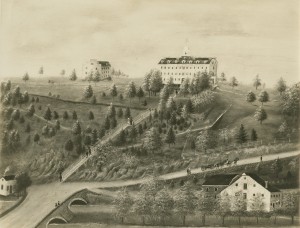 This is an interdisciplinary collaborative digital humanities project to explore environmental, social, and cultural changes that have occurred over the past century along the Bushkill Creek corridor near Lafayette College. In the past the stream was the center of diverse industrial activity due to plentiful water power, but now it is largely unseen, forgotten, and to some extent recaptured by nature. We are working to create a multimedia map and image-based archive that will illustrate this transition, highlight some of the stories involved, and will be explorable by the public.
See our historical image tour here.
See our map archive here.
Project Leads:
David Brandes, Environmental Science and Studies; Civil & Environmental Engineering
John Clark, Data Visualization & GIS Librarian
Support:
Lehigh Valley Engaged Humanities Consortium
Story of Place videos (EVST 254 course, fall 2015, Profs D Brandes and Andy Smith):
Site 1 – Confluence with Delaware R
Site 2 – 3rd Street
Site 3 – Butz Mill bend
Site 4 – Rinek Rope bend
Site 5 – Silk Mill
Site 6 – 13th Street bend
Site 7 – Bushkill Park
Story of Place sites map:


Creative Writing (ENG 351 course, spring 2016, Prof Alix Ohlin):
Poetry
Stories
Interviews with Bushkill people: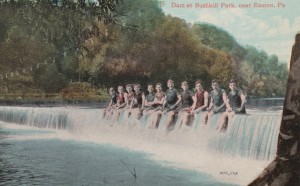 Pic across the top shows the former Walters mill dam at Penn Pump Park as it now appears. This is a popular fishing area and serves as a local swimming hole on hot summer days. The next image is a painting of College Hill ca. 1838, about a decade after the founding of the college (note the stream and mill at the bottom). The antique postcard (ca. 1920) at the bottom shows a row of boys perched on the Bushkill Park dam. The dam was removed in the 1980s during construction of a new bridge on Bushkill Park Drive. The amusement park continued operations until the floods of 2004, 2005, and 2006.