We will meet for the first time on Wednesday, August 30th, 2017
BRING YOUR INSTRUMENTS!
Welcome back to everyone returning and to those who are new: Welcome!
I hope you had a great summer. I am excited to start my 6th year at Lafayette, I think we will have a great time. I am excited to work with all of you this year, and I as always I have two simple goals: learn/perform some wonderful music and have a good time!
I am finalizing the repertoire for the year. Depending on our final numbers, For the fall, I hope to program music from Grieg's Peer Gynt and some other pieces TBD, and of course a Piazzolla tango!
RE: the spring – I am still formulating…
I remind you that the department has launched two social initiatives to keep everyone informed of the great things that are happening musically at Lafayette – check out:
twitter: @lafcolmusic
facebook: https://www.facebook.com/LafColMusic
Again – Welcome back! Now on to the music making…
DJL
About the Conductor: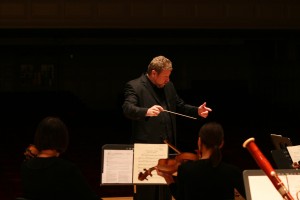 Named a 2nd place winner in the Orchestral Conducting Professional Division of the American Prize in 2013, Dr. Darin Lewis has conducted at major venues throughout the Eastern United States, including performances at Alice Tully Hall, Columbia University, St. Bartholomew's Church, Grace Church and at the Alliance Française with the Little Orchestra Society of New York. He has toured England, France, Italy, Spain, the Czech Republic, Hungary, Austria, Argentina, Uruguay and Germany with performances at major venues in Paris, Barcelona, Florence, Rome, Leipzig, Halle, London, Buenos Aires and Berlin. He has been a guest conductor with numerous ensembles and has been invited several times to conduct at the Music Educator's Eastern Division Regional Conference. He has led workshops in Massachusetts, New York, California, and Connecticut. He is currently the Conductor of the Lafayette College Chamber Orchestra, Director of Music at Trinity Lutheran Church in Robesonia, PA, and Artistic Director of the Simpatico Chamber Ensemble.