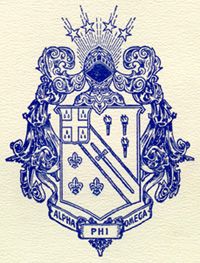 The Alpha Phi Omega Chapter Records document the activities of the Alpha Chapter of Alpha Phi Omega, an international service fraternity founded at Lafayette College. The material records the various activities of the fraternity: its founding in 1925 by Frank Reed Horton, its affiliation with and public endorsement by the Boy Scouts of America, its various college and community service activities, and the initiation of women into the fraternity in 1974.
The Alpha Phi Omega Records (1925-) contain correspondence, speeches, scrapbooks, clippings, photographs, publications, and memorabilia pertaining to Alpha Chapter. Of particular interest are photographs of Alpha Chapter activities and national pilgrimages spanning 1952-1982.
Early membership registration applications, some printed material, and records pertaining to Frank Reed Horton were on file in the Lafayette Collection in Special Collections. In 1990 when the remaining files in the Alpha Chapter office in Hogg Hall were given to Special Collections (through the courtesy of Brian D. Fink  '91, then Alpha Chapter President), the existing materials were deaccessioned from the Lafayette Collection and combined with the new material to form this collection.