Students Publishing 1906-1930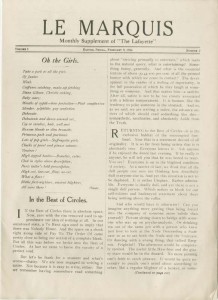 The student humor magazine Le Marquis was established in 1916 as the "monthly supplement to The Lafayette." The College Archives has four issues, from January to April 1916.
Another student literary magazine, The Lyre, developed in the 1920s, featuring lighthearted poetry, prose, cartoons, and caricatures. Click here for the catalog record for the College Archives' holdings of The Lyre. Click here to read a PDF scan of a complete issue — the "Insane Issue," of uncertain date, but probably published around 1921 based on the class years of the editorial board. Click on each of the cover images below for larger views of them.