Students Publishing 1881-1905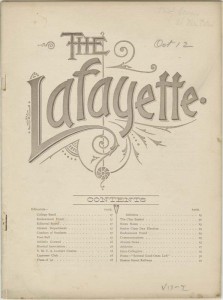 The Lafayette, the oldest college newspaper in Pennsylvania, began publication as The Lafayette Monthly in September 1870. It served as a combined literary and news magazine, with more emphasis on the former. The name was changed to The Lafayette Journal in September 1875 to signal an increased focus on news of the college and the alumni. Its final name, The Lafayette, was adopted in October of 1884.
The Lafayette has been at times a monthly, a fortnightly, a weekly, and a semi-weekly. It has been published continuously since 1870, except during World War II, when its operations were suspended between the fall of 1943 and March of 1945.
Click here to go to the full digital collection of The Lafayette.
Lafayette students published the literary magazine The Touchstone from 1896 to 1909, 1932 to 1934, and 1936 to 1941.
Catalog record for The Touchstone in the College Archives
PDF scan of full March 1903 issue
To see what The Touchstone looked like in the late 1930s, click here.