Students Writing 1832-1854
The ten letters of Alexander Ramsey, Class of 1836, written to family members during his one-year stay at Lafayette College in 1834-35, are witty, charming, and filled with interesting details about life at Lafayette College in the second year of its existence.  Unfortunately, there was no financial aid to enable the College to retain this high-achieving, intellectually curious student, and Ramsey was forced to leave college and take a teaching position.  He enrolled in the Dickinson College Law Department, from which he graduated in 1840. Three years later he was serving Pennsylvania in the U.S. House of Representatives. He went on to become Minnesota's first territorial governor, its second governor following statehood, and its U.S. senator, as well as Secretary of War under President Rutherford B. Hayes.
The letters in the College Archives are typescripts made from copies held by the Minnesota Historical Society; the originals are presumed to remain in private hands. The letters are written to his cousin Rudolph Kelker and other family members in Harrisburg, Ramsey's home.
Click here to read the transcriptions of Ramsey's letters.
✍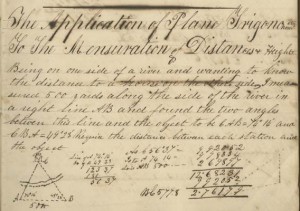 This 1835 application of Plane Trigonometry to the mensuration of distances and heights is found in the land survey problem and rule book of preparatory student George McFarland.  In addition to the standard college course of study of that day, a preparatory course was offered, consisting of Writing, Reading, Arithmetic, to the Cube Root, Geography, Vocal Music, English Grammar, Latin Grammar, Historiae Sacrae, Viri Romae, Historiae Graecae, Caesar, Virgil, Sallust, Mair's Syntax, Greek Grammar, Greek Testament, and Greek Minors in part.  The preparatory course of study was offered at Lafayette College from 1832 to 1854.

✍
"Lines on a Head of Cabbage" is a poetic penalty paid by Lafayette student Thomas Conrad Porter, Class of 1840. Porter was friendly with Lafayette President George Junkin's teenage daughter Margaret.  The two loved to discuss poetry, much to the irritation of Margaret's younger sister Eleanor, who made them wager that the next person to speak of poetry would have to write fifty lines of verse on a head of cabbage.  Porter lost the wager and this poem was the result. All participants in this story later achieved a degree of fame — Margaret Junkin Preston as an important poet of the Confederacy; Eleanor Junkin Jackson as the wife of General Stonewall Jackson; and T.C. Porter as a distinguished professor of biology at Lafayette College.
Lines on the Head of a Cabbage
Let frog-devouring France & beef-fed Bull
Disdain thee, Cabbage, when their mouths are full,
And lazy Neapolitan discard
Who maccaroni holds in high regard;
Let Chinese gourmand think that dish the best
Which savors of the swallow's gluey nest,
Or, brought from distant island-shores, prefer
The relish of the costly beche-de-mer;
Let Abyssinian cut the quivering flesh
From the live heifer and consume it fresh,
While Alpine monk esteems the slimy snail
Above the juice of broccoli or kale;
Let Paddy whistle at the very thought
Of new paratees boiling in the pot,
And Yankee tell, with rapture in his eye,
The peerless virtues of the pumpkin pie –
But, as for me, sprung of Teutonic blood,
Give me the cabbage as the choicest food.
O far-famed Sauer Kraut! compared with thee,
All dainties rifled from the land and sea
Were heaps of trash, and viands on the boards
Of prodigal Lucullus, or the hoards
Of which renowned Apicius could boast,
Detestably insipid – and the host
That followed Epicurus, at the best,
Mere common swine, unpampered and unblest.
Had but the Gods on high Olympus' brow
Caught thy rich odor wafted from below,
Loathing as bitter their celestial bread,
They all in haste to Germany had fled.
What gave the fierce Barbarian strength to wield
His ponderous weapon on the battle-field,
When from the North his brawny right arm hurled
A bolt of vengeance o'er the Roman world?
Thy hidden power, O matchless Cabbage, thine,
Dweller upon the Danube and the Rhine.
Ye vain philosophers of titled worth,
Go to this lowly denizen of earth,
And read a lesson from his furrowed leaves;
Their words are truth; that volume ne'er deceives.
Castles and monuments have passed away,
Pillars and temples crumbled to decay,
Leaving no trace behind them to proclaim
To after ages their possessors' fame,
While on his brow unfaded yet appears
The wrinkled wisdom of six thousand years.
I love thine honest countenance, old friend;
My earliest mem'ries with thy history blend,
And Hallow Eve, free to the wile and plot
Of boyish cunning, cannot be forgot;
The ringing shout, the merry laugh and cheer,
Still and will ever linger in mine ear.
May never he who slanders thy good name
Have his recorded on the scroll of fame!
May he ne'er taste thee, whose proud looks despise,
But Time increase thine honor as he flies!
Thomas C. Porter, Class of 1840
*Me pinguem et nitidum bene curate cute vises,
——————Epicuri de grege porcum. Hor. Ep. 1-4 : 16.
✍
Thomas Gardner Gayley was born in Philadelphia in 1832. He entered Lafayette as a freshman in 1850 and graduated in the summer of 1853. Upon graduation, Gayley became a teacher, and later he became a real estate agent. He died in Philadelphia in 1907.
While at Lafayette, he was a member of the Franklin Literary Society. He also kept a diary, in which he describes his daily activities as a student, including his recitations and the sermons of the church services he attended. He discusses his classes, student activities, the weather, and the letters and news from home he had received. He also describes many important events in Easton, such as the addition of steamboats and railroads, and a fire in February 1853.
Gayley begins the second and final volume of his diary, which recounts the last few months of his career at Lafayette, by discussing how he began a diary in the first place, and how it has affected him:
… I took but very little interest in writing a diary but since I have made it a part of my everyday business it seemed pleasant for me to record the actions of the day. Sometimes, when I feel very much in the humor of writing, I feel as if I must write something merely for the purpose of writing. I have exercised my thinking faculties in vain. I hope I may continue writing this till I can write no more. It may afford me pleasure at some future time to peruse the pages already written, at least I hope so. (May 6, 1853)
Gayley continues recounting his daily activities, including his commencement exercises, and writing in his diary until about a week and a half after graduation, after which there are no more leaves in the collection.