Students Learning 1832-1854
The Washington and Franklin literary societies were the first forms of extra-curricular activity to appear on the Lafayette campus in the 19th century, and functioned in some ways as precursors to the future Greek system. In addition to debating, these clubs sponsored oratorical and essay contests, enrolled honorary members, and created the college's first libraries.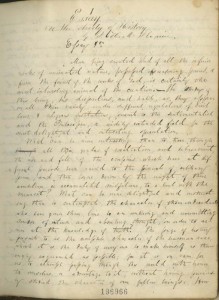 Early essays and poems of the Washington Literary Society were bound in this book. The authors read these works at the annual contest with the Franklin Literary Society. Click on the image at left for a PDF that shows the first page of each composition.
Full transcription of "Woman: An Essay" (PDF)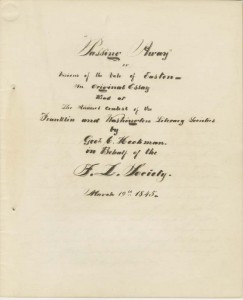 In "Passing Away," from 1845, George Heckman imagines the nation's long-term future: "Let the American youth … read the histories of the nations that have long since passed away, and they will be enabled to steer the 'ship of state' through the rocks and shoals on which those nations split. That they may form their own opinions, let a good, plain and solid education, be the boast of 'young America.'"
Full transcription of "Passing Away" (PDF)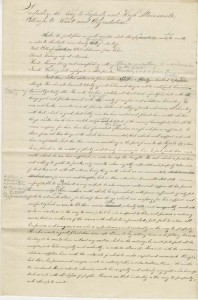 The Ephraim Simanton collection consists of:
— Twenty-seven essays. Fifteen of these include corrections and three also include professor's comments.
— Three translations of works by Horace, all of which include corrections.
— One original poem ("The Sabbath").
— One letter, written in English to Simanton's father and in German to his mother.
For more information, see the catalog record and finding aid for the Simanton collection.
Click on the image above for a complete PDF scan of Simanton's essay "Industry, the Way to Prosperity and High Attainments; Idleness, to Want and Degradation." For a PDF transcription of the essay, click here.