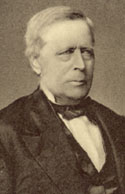 James Henry Coffin, mathematician, meteorologist, and educator (1806-1873), was born September 6, 1806, in Williamsburg, Massachusetts to Matthew and Betsey (Allen) Coffin, the third of seven children. He was a descendent of Tristram Coffin who emigrated from England to Massachusetts in 1642 and was one of the first European settlers on the island of Nantucket. Matthew Coffin was a country broker. A series of  local bank failures in 1815 resulted in the loss of the family's fortune. After his father's death in 1820, James Coffin went to live with his uncle, the Reverend Moses Hallock of  Plainfield, Massachusetts, and made plans to become a musical instrument and cabinet maker. At the urging of his cousin William Hallock (Rev. William A. Hallock, D.D., first secretary of the American Tract Society), Coffin abandoned his plans to learn a trade and entered Amherst College in September 1823. Coffin, in later years, often referred to his cousin's advice as the turning point of his life.  In order to pay for his school expenses, he tutored at the college and taught penmanship and stenography at local schools. While at Amherst, he suffered an attack of measles that affected his eyesight and prevented his graduation until 1828.  The following year, Coffin opened a boarding school for young men in Greenfield, MA. The school was chartered in 1832 as the Fellenberg Manual Labor Institution and was considered to be one of the most successful manual labor schools in New England.  While at Fellenberg, he published his bookkeeping system,  Progressive Exercises in Book Keeping, By Single and Double Entry (1836) that was used by Massachusetts state schools.  Because of increased financial obligations, Coffin left Greenfield in 1837 to become principal of an academy in Ogdensburg, NY.  In 1838 he began his meteorological studies and embarked upon his life's work — the development of his theory of the winds. Coffin attempted to publish a monthly journal in meteorology, the Meteorological Register and Scientific Journal.  He hoped the journal would establish a cooperative system for gathering and publishing meteorological data throughout New York state and serve as a forum for the discussion of meteorological and astronomical observations.  He printed the first copy in January 1839, but it failed after the first issue from lack of support.
Coffin continued his investigations in astronomy and meteorology while working as a tutor at Williams College from 1840 to 1843. He built an observatory on the summit of  Mt. Greylock in Adams, MA and installed the first combined, self-registering anemometer and barometer for recording wind variations and barometric changes (1840). This instrument was described by him in a paper presented in 1849 at a meeting of the American Association for the Advancement of Science in Cambridge, MA. From 1841 to 1842, he published a series of articles in the Pittsfield newspaper, Berkshire County Whig, entitled "Meteorological Observations and Researches in Williams College."  In 1843 Coffin wrote a treatise (still in manuscript) on the mathematical theory of the moon's motions.  An abridgment of the treatise entitled,  Solar and Lunar Eclipses Familiarly Illustrated and Explained, With the Method of Calculating Them, was published in 1845.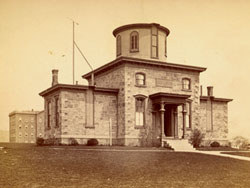 From 1843 to 1846 he was principal at an academy co-run by his older brother, Robert A. Coffin, in South Norwalk, CT.  During this period of his career, Coffin had little opportunity to pursue his meteorological studies because his teaching duties absorbed all of his free time. Coffin welcomed the move to Lafayette College in October 1846 where he remained for the rest of his life. He completed twenty-seven years of continuous service at Lafayette as professor of mathematics, natural philosophy, and astronomy (1846-1873).  In addition to his teaching duties, he served as Vice-president (1849-1853) and Treasurer (1863-1873). He also performed the work of dean, registrar, and bursar.  Coffin was a mainstay of the college from its early years of financial instability and internal conflicts to its eventual growth and prosperity. He helped Lafayette forge ahead in its science curriculum and was instrumental in establishing the college's first and only astronomical observatory (Green Observatory pictured at right). During his teaching career at Lafayette, Coffin published mathematical works: A Key Containing Solutions of the Examples in Coffin's Analytical Geometry (1851) and Elements of Conic Sections and Analytical Geometry (1855).  In addition he wrote articles and presented papers at meetings of the American Association for the Advancement of Science and other scientific societies. His internationally recognized work on the subjects of  winds and atmospheric changes helped bring recognition to Lafayette College.  At the Lafayette College Commencement, June 20, 1902, the Class of 1866 presented to the College a plaque dedicated to James Henry Coffin.  The class solicited Professor Francis A. March to compose the inscription. (Image of Coffin Memorial Plaque.)
The same year that Coffin joined the faculty at Lafayette, he began his collaboration with the newly established Smithsonian Institution.  He was placed in charge of tabulating data for the Smithsonian Meteorological Project. For more than thirty years Coffin collected information on the motion of winds.  His pioneer work in the field, Winds of the Northern Hemisphere, was published by the Smithsonian in 1853. His collaboration with the Smithsonian resulted in other publications: Psychometric Tables (1856); Results of Meteorological Observations: Made Under the Direction of the United States Patent Office (1861-1864); The Orbit and Phenomena of a Meteoric Fire-ball (1869);  and The Winds of the Globe (published posthumously in 1875).
Coffin was married twice: to Aurelia Medici Jennings in 1833; and to Abby Elizabeth Young in 1851. He had three children by his first marriage: Elizabeth, Selden, and Martha; and one child, James Henry, by his second marriage. He died on February 6, 1873 and was buried in Easton, PA.  The engraving on his headstone commemorates his discovery of the motion of the winds.
Coffin was active in many professional organizations. He was one of the first elected members of the National Academy of Sciences, and a prominent member of the American Association for the Advancement of Sciences for which he chaired the mathematics and physics section. During his long career, Coffin achieved public recognition. He received an honorary degree of Doctor of Laws from Rutgers University in June 1859. In 1871, Coffin was elected a corresponding member of the Society for the Promotion of the National Industry of Brazil.  He was appointed U.S. Commissioner to the Vienna Exposition in 1872 to represent the United States in an exhibition of mathematical and astronomical instruments. The British Admiralty adopted Coffin's records of the winds as a guide to British shipping on all seas. The wooden base of Coffin's self-registering anemometer is in the Smithsonian Museum's collection of early scientific equipment.
Further biographical information on Coffin can be found in John C. Clyde's Life of James Henry Coffin (1881) and The Dictionary of American Biography.