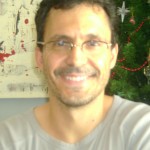 Paul Cefalu is the Frank Lee and Edna M. Smith Professor, Department of English, at Lafayette College. He received his Ph.D. from the University of Chicago in 1999,  and his B.A. from Johns Hopkins University in 1988. At Lafayette College he routinely teaches courses in seventeenth-century/early modern English literature, with occasional forays into contemporary literary theory and disability studies.
Paul has recently published a monograph entitled The Johannine Renaissance in Early Modern English Literature and Theology (Oxford University Press, 2017). The argument of the book is that John the Apostle's Fourth Gospel and First Epistle are central to fateful sixteenth- and seventeenth-century debates on a range of topics, including the Lord's Supper, Trinitarianism/anti-Trinitarianism, divine agape, the figure of Mary Magdalene, and Antinomian dissent during the civil war years. Each chapter focuses on one of these topics, and includes close readings of poems by Herbert, Donne, Vaughan, Crashaw, Traherne, Trapnel, and Milton to point out the important ways in which seventeenth-century religious writings are shaped by a Johannine poetics focused on discipleship misunderstanding, realized eschatology, John's "high" Christology, and a theology of comfort and personal assurance.
Here are some recent reviews of The Johannine Renaissance:
"Paul Cefalu's magisterial and potentially revolutionizing study invites a fresh perspective on our understanding, not only of early modern literature, but also of post-Reformation theology and devotion. … This is an important study in its own right, composed by a scholar working at the peak of his powers, inspired by an idea distinguished for its originality, and enriched for the reader by a density of thought that is leavened and decorated by the inclusion of seven handsome illustrations." — Russell M. Hillier, The George Herbert Journal
"The Johannine Renaissance should be read as a worthy successor to Barbara Kiefer Lewalski's Protestant Poetics and the Seventeenth Century Religious Lyric (1979). Uninhibited by Lewalski's belief that Protestantism can and should be cleanly differentiated from Catholicism, and informed by more recent  work on materiality and signification as well as theology, Cefalu's book is nevertheless akin to Lewalski's in the scale of its intervention. All subsequent work on Renaissance religious poetry must confront the challenge The Johannine Renaissance poses to the assumption that Paul was the Reformation's most important biblical theologian." — Constance Furey, Modern Philology
"In The Johannine Renaissance in Early Modern English Literature and Theology, Paul Cefalu offers a brilliantly conceived, revisionist account of how John's Gospel and First Epistle are used by a wide range of early modern English authors. … Despite the much-vaunted 'religious turn' of recent years, there are still many areas of current early modern scholarship that would benefit from the kind of immersion in religious debate that Cefalu models so expertly here." — Adrian Streete, English: Journal of the English Association
"By far the most ambitious book within this grouping, however, is Paul Cefalu's magnificent The Johannine Renaissance in Early Modern English Literature and Theology, a major revision of an already robust revisionist history which has steadily eroded any residual, monolithic model of "Protestant poetics" such as may still survive by means of a growing number of sacramentalist readings of Reformation theology and literature. . . . Cefalu's book brings dazzling focus to a now swelling revisionist history of Reformation theology, culture, literature, and poetics by drawing attention to the missing link—the occluded chapter, hidden in plain sight—namely, the evangelical writings of John." – Catherine Bates, Studies in English Literature
"In this learned, densely-argued study, Paul Cefalu shows how the writings ascribed to St. John the Evangelist exerted quiet but powerful influence in early modern England… Professor Cefalu explores the Fourth Gospel's imaginative imprint across a broad range of religious discourse… This mode of exploring Johannine influence usefully cross-cuts the confessional binaries that frequently define the consideration of early modern religious writing, disclosing unexpected common ground among Catholic and Protestant authors, as well as deepening connections between the magisterial and radical strains of Reformation thought." — James Ross Macdonald, Seventeenth-Century News
"This is a substantive book that will no doubt prove an unparalleled examination of evangelical theology in the early modern period. It is written with exceptional command and expertise, and is rarely unconvincing in the minutiae of its readings." Ezra Horbury, Journal of Theological Studies
"A definitive and masterly work of scholarship that will enable future interpreters to approach the era's poetry with a valuable new theological understanding." Kristen Poole, The Journal of Religion
"This book is a momentous accomplishment." John E. Curran, Jr. Milton Quarterly
Also forthcoming is a special issue of Literature and Theology on cognitive theory, religion, and literature that Paul is co-editing with Julia Reinhard Lupton.
Paul has published the following books: Tragic Cognition in Shakespeare's Othello: Beyond the Neural Sublime (Shakespeare Now! Series, Bloomsbury, 2015); The Return of Theory in Early Modern Studies, Volume II, eds. Paul Cefalu, Gary Kuchar, and Bryan Reynolds (Palgrave Macmillan Press, 2015); Moral Identity in Early Modern English Literature (Cambridge University Press, 2004); Revisionist Shakespeare: Transitional Ideologies in Texts and Contexts (Palgrave, 2004); Early Modern English Literature and Contemporary Theory: Sublime Objects of Theology (Palgrave, 2007), and The Return of Theory in Early Modern English Studies: Tarrying with the Subjunctive, co-edited with Bryan Reynolds (Palgrave, 2011).
Paul received a 2013-14 long-term fellowship at the Folger Shakespeare Library in support of his work-in-progress entitled The Mind and Body of God: Divine Accommodation and Anthropomorphism in Early Modern English Culture. This book aims to provide the first book-length account of the theory and practice of divine accommodation in early modern English culture. Accommodation, the notion that God deigns to lower himself to creaturely ability, derives from the Aristotelian concept of oikonomia, as well as the patristic concept of dispensatio. Introductory chapters track the etymological vicissitudes of the concept from the classical through early modern periods, giving particular attention to the Reformed account of accommodation which Jean Calvin famously described as a mode of divine "baby-talk." Later chapters assess the appropriation of the term in early modern devotional poetry, Renaissance drama, negative theology, iconophobia, and antitrinitarian debates during the English Interregnum.
Connect to Paul's tutoring website, Tutoring by Professors, here.