Yesterday was the last day of the 'Pards On Wheels service trip, due to the impending snow storm. Following the same routine as always, (group breakfast, subway riding, getting instructions for the deliveries of the day) my partner Chris (AKA the deceitful cop—yes, I'm still livid over this) and I headed out of St. Malachy's Church and walked toward 62nd street where we began our journey for the day.
Chris and I are also notorious for being the last ones to get back to the church. Hopefully this blog post will explain why.
We delivered meals to two women that really made an impact on our lives. The first was named Danielle. She invited us in, introduced us to her cat named Louis and told us about her amazing life. She studied theater at Carnegie Mellon and was a big advocate for the African American Civil Rights Movement of the 1960s. She showed us modeling photos from when she was our age, and boy, she was absolutely gorgeous. She looked at the photos with a hint of melancholic nostalgia in her eyes and told us, "Ah, I remember this girl. She was very pretty but very, very insecure." Danielle showed us a ton of trinkets she had in her apartment from around the world, ranging from Japanese art to African hand carved wooden ornaments. I checked the time and discovered that we had been talking to Danielle for at least 45 minutes. We were both really upset that we had to leave, but I decided to ask her one piece of life advice she could give us.
She replied, "Never forget to stick up for yourself. You deserve it. Never feel like you don't."
She gave us a hug and as we said our goodbyes, her voice shook. I could hear in her voice the sound of tears that were about to surface as we left.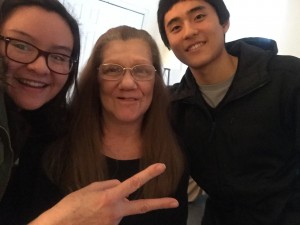 Interacting with the second woman was quite the experience. Her name was Clara. She had an aid and both only knew a few words in English. She invited us in as well! Chris communicated with Clara with broken, high school level Spanish, while I managed to use my knowledge of the Italian language (and Google translate as well, who am I kidding) to communicate. Before we knew it we were talking with Clara and her aid for well over 45 minutes. We knew we were running late on time so Chris and I tried to leave to deliver our remaining meals, however, they had cooked food and literally would not let us leave until we had some. As Clara pushed food onto our plates (even when we were full), she told us of her life in Argentina and her strained relationship with her daughter whom she had not talked to in over 15 years. We learned that all of her family doesn't visit her because it is too expensive and they dislike New York. This really made me upset; I can't even begin to fathom how that must make her feel. I checked the time and noticed it was 2PM (sorry, POW members) and told them we really had to leave. We hugged goodbye and were off delivering our last meals of the day. We literally sprinted through the streets of New York and made it back to the church by 2:12PM (on the dot!)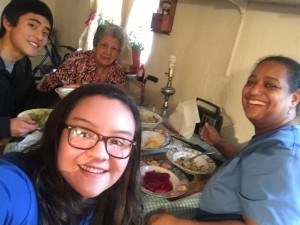 A beautiful thing about being human are the tiny, individual stories that comprise each and every one of us. This ASB trip was not only an opportunity to help those in need, but also an opportunity to hear and appreciate these stories from people who have already done it all. Thank you, Danielle and Clara for sharing your stories with us. I also want to give a big thank you to Matt for organizing this experience and always having a smile on your face. Last but not least, thank you to my wonderful teammates that really made this trip quite the experience. (The distance we walked on this trip was so great it could be comparable to Jupiter's circumference, and the weather was not at all Lukewarm.) <3
I also want to give a shout out to Chris! Thanks for being my resilient partner and not crying even when all of our bags dropped in the middle of NYC traffic. Thank you for sharing your stories with me as well.
-Elizabeth (sorry this was so long lol)