Lafayette College's Alternative School Break Club began in the spring of 1993 when a group of students wanted to do something about the devastating effects of Hurricane Hugo and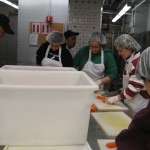 decided to travel down to Florida. Unfortunately, a blizzard left them stranded on campus and consequently, the students were not able to go. Though nature's wrath had prevented the students from visiting Florida, their enthusiasm continued into the next school year when the students once again, planned a spring trip for the purpose of community service. This time, the students would be traveling to Honduras during their spring break to work with the family of an international student. Service ranged from cleaning up community buildings to painting rooms at a local orphanage. The students' persistence paid off as this Honduras trip has continued each year.
Since its start in 1993, Lafayette students have traveled internationally to countries like Honduras, Hungary, and the Dominican Republic to assist with providing the community clean water, homes to live in, and a friend for orphaned children. In addition, ASB'ers have traveled to at least 17 states as well as the nation's capital to do a variety of things ranging from activities such as working to alleviate issues like hunger and homelessness as well as re-building homes from damage caused by natural disasters.