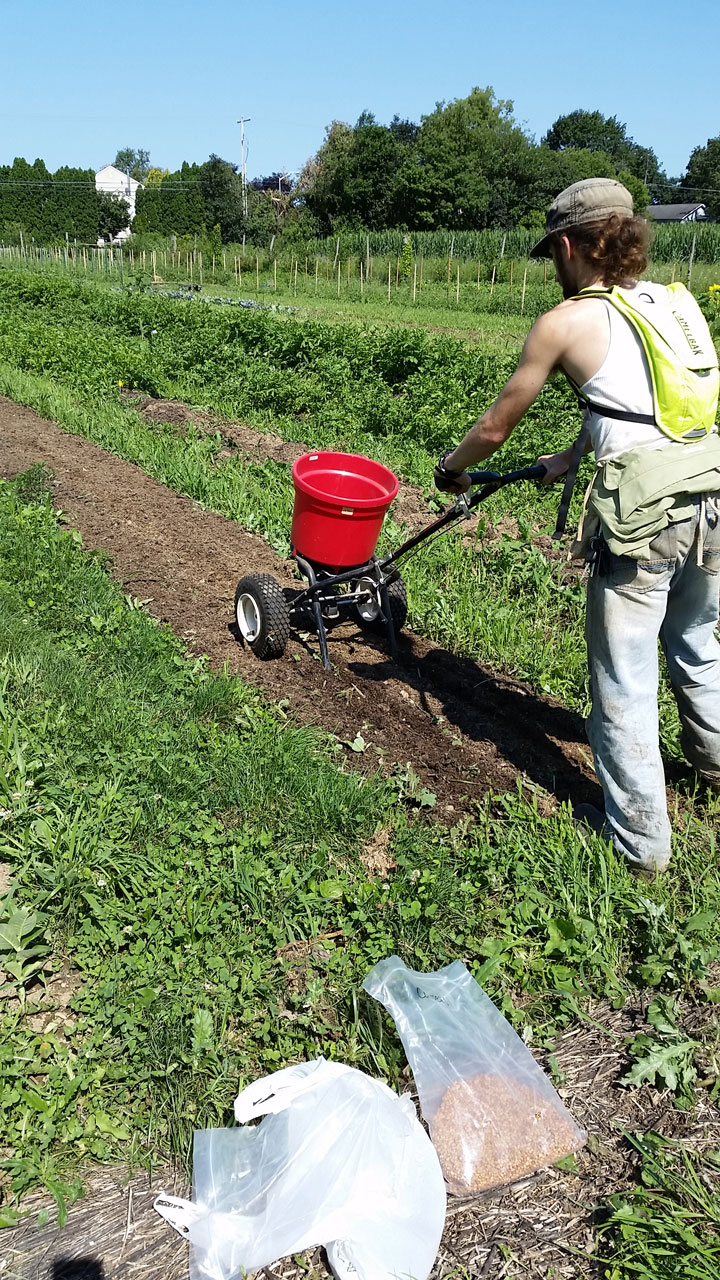 This post comes at a very good time as the National Working Group on Cover Crops and Soil Health recently released a top ten list of ways to improve soil health. So, since these are some of the things we're doing out at LaFarm, it makes sense to share some basics about cover cropping.
Cover cropping is the act of purposefully planting a non-food crop on your land for one of a few reasons. You can use leguminous cover crops to increase nitrogen in the soil (or a whole host of other crops to increase organic matter or specific micro-nutrients) to protect a plot, bed, or field from weeds before or after you've used it for food in a season, to mark permanent walking paths between permanent beds, or even sow a crop that doesn't grow tall under a food crop to shade out weeds so you don't need to weed under your taller plants.
One of the main differences between cover cropping and just growing buckwheat, sun hemp, or any of the other numerous plants commonly used as cover is that generally you're not planning on using the product of the crop, but instead are planning on tilling it under before the next season or composting it to increase soil fertility-though that's not necessarily the case. You can grow oats as a cover, hand-harvest the oats and then still till under the crop. Likewise we could have harvested the sun hemp we grew as cover last year to use as fiber for clothes and left the leguminous nitrogen nodules in the ground for this season. But the main goal with cover cropping is the soil health benefits, not the produce of the crop.
As I've mentioned previously we had to pull a whole row of potatoes after the storm on June 30th. Because there's a good deal of growing time left, we decided to cover crop it with cowpeas and buckwheat. We chose these because cowpeas fix nitrogen in the soil, and the buckwheat will live for longer into the winter, keeping protection on the bed, but both will die before next season, so we can till them under for increased soil nitrogen and organic matter. This handy guide by the USDA is a great quick reference for what kind of cover crop you may need.
We started by tilling the bed, and then getting out our Earthways Broadcast Seeder. When broadcast seeding, you can spread by hand, it just takes a lot of time on any significant scale. We filled the seeder with the cowpea and buckwheat seeds, and then walked it across the newly tilled row. With cover crops, soil compaction over the seed is actually desirable (unlike with vegetables where it is to be absolutely avoided.) After just one pass with the seeder, we used a soil rake to cover all the seed. It was that simple! And since we're not harvesting this crop for food, we don't need to pay any more attention to the bed really (except for some optional hand weeding if weeds start getting too big before the peas or wheat get established.)
This was just on on a single row. At the farm, we've also cover cropped all our permanent pathways with crimson clover, which doesn't grow very tall, shades out most weeds, and marks the areas we can walk on, and we've covered whole plots with buckwheat, Sudan grass, sun hemp and other crops. For that, you just till the whole plot, broadcast seed until you see seed over most of the area of the plot, and then step all over it and/or rake it into the ground. Some farmers tie wooden boards to their feet to help step on the whole area faster.
Hope this helps some diversified growers out there!
-Joe Ingrao, Summer 2015 EXCEL Scholar