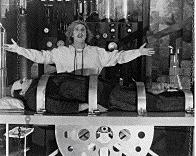 ---
BULLETIN OF THE HISTORY OF MEDICINE, an online journal.
Books (all books with call numbers are available in Skillman Library):
Call #: RA639 .Q83 2012
Author: Quammen, David
Title: Spillover : animal infections and the next human pandemic
An excellent primmer on emerging viral, bacterial and protist diseases in humans.
Call #: QH603.M5 L36 2005
Author: Lane, Nick
Title: Power, sex, suicide : mitochondria and the meaning of life.
An OUTSTANDING synthesis on the evolution of life and mitochondria in particular.
Call #: RD27.35.H86 M66 2005
Author: Moore, Wendy, 1952-
Title: The knife man : the extraordinary life and times of John Hunter, father of modern surgery
An outstanding read!
Call #: QP251 .R568 2008
Author: Roach, Mary
Title: Bonk : the curious coupling of science and sex
An irreverent and very amusing history of research and researchers studying human sexual behavior.
Call #: RD598 .M579 2007
Author: Morris, Charles R
Title: The surgeons : life and death in a top heart center. An excellent book on heart surgery, as well as on where U.S. healthcare funding will be going in the next 10 years.
Call #: RD27.35.C47 A3 2007
Author: Chen, Pauline W.
Title: Final exam : a surgeon's reflections on mortality.
Call #: RG133.5 .M86 2007
Author: Mundy, Liza, 1960-
Title: Everything conceivable : how assisted reproduction is changing men, women, and the world.
Call #: RM263 .C75 2005
Author: Critser, Greg
Title: Generation Rx : how prescription drugs are altering American lives, minds, and bodies.
Call #: RA 418.5.M4 D49 2005
Author: Deyo, Richard and Patrick, Donald
Title: Hope or Hype: the obsession with medical advances and the high cost of false promises.
Call #: RD31.5 .C38 1998
Author: Cassell, Joan
Title: The woman in the surgeon's body.
Call # QP411 .R3 2004x
Author: Ramachandran, V. S
Title: A brief tour of human consciousness: from imposter poodles to purple numbers.
Call #: none, 2004
Author: Ofri, Danielle, MD
Title: Singular Intimacies: Becoming a doctor at Belleview.
Call #: none, 2001
Author: Hudson, Janice, RN
Title: Trauma Junkie: Memoirs of an emergency flight nurse.
Call #: none, 2000
Author: Grim, Pamela, MD
Title: Just Here Trying to Save a Few Lives: Tales of life and death from the ER.
Call #: RC111 .M226 2004
Author: Markel, Howard
Title: When Germs Travel : Six major epidemics that have invaded America since 1900 and the fears they have unleashed.
Call #: R154.F36 K53 2003
Author: Kidder, Tracy
Title: Mountains Beyond Mountains.
Call #: R149 .L45 2000x
Author: Le Fanu, James
Title: The Rise and Fall of Modern Medicine.
Call #: RC 263.W43 2004
Author: Welch, H.G.
Title: Should I Be tested for Cancer? Maybe Not and Here's Why.
Call #: R 729.8 .W33 2004
Author: Wachter, R.W. and Shojania, K.G.
Title: Internal bleeding: the truth behind America's terrifying epidemic of medical mistakes.
Call #: QP85 .H255 2003
Author: Hall, Stephen S.
Title: Merchants of immortality : chasing the dream of human life extension.
Call #: R729.5.G4 M85 2002
Author: Mullan, F.
Title: Big doctoring in America: Profiles in primary care.
Call #: RA 643.D47 2002
Author: Desowitz, R. S.
Title: Federal bodyscatchers and the New Guinea virus: Tales of parasites, people and politics. An interesting book which, among other things, explains why a drug which can cure sleeping sickness, one of the scourges of tropical Africa, is now available only as an over-the-counter depilatory cream.
Call #: RC438 .P67 2002
Author: Porter, Roy
Title: Madness : a brief history
Call #: R730 .B373 1994
Author: Barrett, Stephen
Title: The vitamin pushers : how the "health food" industry is selling America a bill of goods.
Call #: QR189.5.A33 T48 2001
Author: Thomas, Patricia
Title: Big shot : passion, politics, and the struggle for an AIDS vaccine.
Call #: RC183.49 .F46 2001
Author: Fenn, Elizabeth A.
Title: Pox Americana : the great smallpox epidemic of 1775-82.
Call #: RG 560 .W65 2001
Author: Naomi Wolf
Title: Misconceptions: truth, lies and the unexpected on the journey to motherhood.
REQUIRED READING for all potential parents and particularly for larval doctors.
Call #: TP 248.23 .A53 2000
Author: Andrews, Lori and Dorothy Nelkin
Title: Body bazaar: the market for human tissue in the biotechnology age.
Call #: RC986 .D78 2000
Author: Druett, Joan
Title: Rough medicine : surgeons at sea in the age of sail.
Call #: RA975.5.I56 M87 2000
Author: Murray, John F.
Title: Intensive care : a doctor's journal.
Call #: RA1063.45 .G64 2000
Author: Goff, M. Lee
Title: A fly for the prosecution : how insect evidence helps solve crimes.
Call #: RM172 .S728 1998
Author: Starr, Douglas P
Title: Blood : an epic history of medicine and commerce.
Call #: RA 644 .A25 B387 2000
Author: Bayer, R and G. Oppenheimer
Title: AIDS Doctors: Voices From the Epidemic. An Oral History.
Call #: R 154 .R755 A3 1999
Author: Rothman, Ellen L.
Title: White Coat: Becoming a Doctor at Harvard Medical School.
Call#: R729.5.S6 L53 1996
Author: Laster, Leonard, M.D.
Title: Life after medical school: 32 doctors describe how they shaped their medical careers
Call #: RC 87.H795 1999
Author: Huyler, Frank
Title: The Blood of Strangers: stories from emergency medicine.
Call #: RA 418.5 .P6 F37 1999
Author: Farmer, Paul
Title: Infections and Inequalities: the modern plagues.
Call #: RA418.5.P6 S595 1996)
Author: Skolnik, Neil
Title: On the ledge: a doctor's stories from the inner city
Call#: RD593 .V47 1996
Author: Vertosick, Frank T
Title: When the air hits your brain: tales of neurosurgery
Call #: R154.K44 A3 1988
Author: Konner, Melvin
Title: Becoming a doctor: a journey of initiation in medical school
Call #: R733 .R66 1997
Author: Root-Bernstein, Robert Scott
Title: Honey, mud, maggots, and other medical marvels : the science behind folk remedies and old wives' tales
Call #: BD444 .L96 1997
Author: Lynch, Thomas
Title: The undertaking: life studies from the dismal trade
Call #: HM206 .D48 1997
Author: Diamond, Jared M
Title: Guns, germs, and steel: the fates of human societies
Call #: QR46 .B47 1995
Author: Biddle, Wayne
Title: A field guide to germs
Call #: R733 .C65 1996
Author: Collinge, William
Title: The American Holistic Health Association Complete guide to alternative medicine, William Collinge; introduction by Len Duhl
Call #: LA227.4 .K37 1998
Author: Karabell, Zachary
Title: What's college for? : the struggle to define American higher education
Call #: Q125.2 .B66 1995
Author: Bono, James J. (James Joseph)
Title: The word of God and the languages of man : interpreting nature in early modern science and medicine
Call #: R708 .T48 1992
Author: Thomas, Lewis
Title: The fragile species
Call #: 615.882 G646e
Author: Good, Charles M
Title: Ethnomedical systems in Africa : patterns of traditional medicine in rural and urban Kenya
Call #: 616 R854c
Author: Roueche, Berton
Title: Curiosities of medicine; an assembly of medical diversions, 1552-1962
Call #: BF692.2 .T69 1998
Author: Townsend, John M.
Title: What Women Want – What Men Want: why the sexes still see love and commitment so differently.
NOTE: the questionaires which provided the data on which this study was done were given primarily to medical students, so you can learn much about them by reading this book. It's pretty scary!
Call #: 610.92 J38g
Author: Grob, Gerald N.
Title: Edward Jarvis and the medical world of nineteenth-century America.
---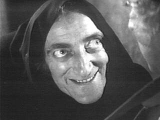 The picture at the top of this page is a frame from Young Frankenstein,1974, 20th Century Fox, produced by Mel Brooks. Gene Wilder is Dr. Frankenstein and Peter Boyle is the monster. The picture on the right is Marty Feldman as Igor; his profound exopthalmia was not a trick of makeup, but was caused by a lifelong hyperthyroid condition. Peter Lorre, another actor noted for his expothalmia, also suffered from hyperthyroidism.

Link to a Young Frankenstein home page.
---
Return to Biology Dept. page.
Return to Health Professions page.
Return to Prof. Holliday's web page.